Date published: 2019-08-01
---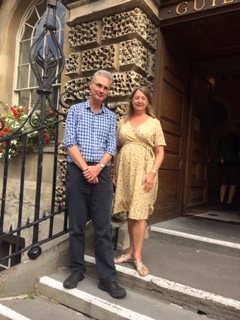 I am opening our first Area Forum tonight in Bathavon North to help us give people a bigger say and deliver for local residents, where I hope to meet as many people as possible to address areas of local concern. Area Forums are made up of Bath & North East Somerset elected members, parish councils, local groups and residents. They are a great way for residents to raise concerns not only with the council but also with partners such as the police. Area Forums are open for any member of the community to attend and you can follow this link to find out about one near you https://www.bathnes.gov.uk/services/neighbourhoods-and-community-safety/localism-and-community-planning
Collaborative working was at the fore last month when I met with the Leader of North Somerset Council about our joint opposition to the expansion of Bristol Airport. Councillor Don Davies and I were pleased to agree a consistent approach to putting in our objections to this planning application on highways grounds, due to the impact the increase in traffic will have on our rural communities nearby. In March, the council declared a climate emergency and is committed to providing leadership to enable carbon neutrality by 2030 in Bath and North East Somerset. The declaration included opposition to Bristol airport expansion. This application won't just affect the local community either – the expansion of air travel is inconsistent with our councils in the West of England having declared a climate emergency.
I unveiled a public exhibition on 12 August that will capture the thoughts of young people on issues such as mental health, drugs and alcohol. The exhibition has been put together by Developing Health & Independence (DHI), a charity which helps disadvantaged people and those living on the margins of society turn their lives around. If we are to help young people, it is imperative to listen to their thoughts and adapt our services so they are fit for the future.
Extra cleaning is still under way in Bath with the £40,000 of funding we have put into weekend cleaning, bin emptying and increased street washing over the summer. I welcome the visible improvements for visitors and residents that make Bath an even more inviting place to be.
Looking ahead this month, it will be exciting to see Bath's Milsom Street become traffic free for a whole weekend (21-22 September), highlighting the climate emergency and boosting trade as part of a fantastic community event. Love Milsom Street is part of the Love Our High Streets project funded by the West of England Combined Authority (WECA), which aims to revitalise and rethink the way local high streets are used. The closure is set to give businesses increased footfall, as well as the opportunity to offer pop-up trading stalls and extra seating on the street. I will have further updates on our public realm improvements in other areas of Bath and North East Somerset over the autumn.