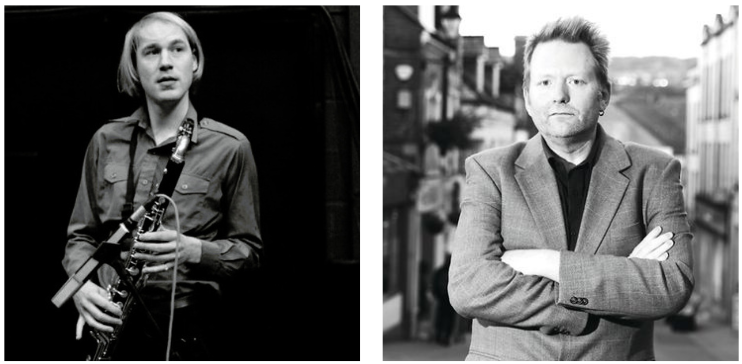 An immersive live performance will come to the Roman Baths on the evening of Wednesday 25 October. A Sound Map of The Roman Baths brings together poetry, music improvisation, and field recordings inspired by the site's extraordinary history and geothermal hot springs.
Created by bass clarinettist and composer Chris Cundy and featuring poet Adam Horovitz, the sound map will reveal human voices and distant sonorities that have inhabited the Baths for thousands of years. The performance with spatial audio will take place by torchlight, featuring world-class musicians Angharad Davies violin, Bruno Guastalla cello & electronics, Emi Watanabe japanese flutes, Mark Sanders percussion and Chris Cundy bass clarinet & field recordings.
Resampling subterranean frequencies from the site and gathering insights from museum experts and historians, Chris, Adam and the ensemble will present the voices of the hot spring and the goddess Sulis Minerva herself, through a process of curiosity, improvisation and sonic intervention.
Chris Cundy said: "Over the past few months myself and Adam have spent many hours at the Roman Baths exploring the archives and making field recordings from all round the site. We're presenting a piece of work which reveals a heightened sense of this, a reworking of natural sounds captured both below and above the water. It's been an incredible experience to explore such an iconic site like this through the intimacy of sound."
Councillor Paul Roper, Cabinet Member for Economic & Cultural Sustainable Development, said: "It is always rewarding working with artists to see what fresh perspectives they bring. I am very much looking forward to seeing Chris and Adam perform their new material, which has been inspired by the Spring water and collections from the Roman Baths. The atmospheric setting of the Great Bath at night is the perfect place for an immersive sound extravaganza."
Sound design has been developed at University of Gloucestershire's Sound Lab and the event will feature University of Greenwich's state of the art IKO speaker system. Following the live event, a series of feature-length listening episodes will appear on Resonance FM alongside an online audio archive at romanbaths.co.uk.
Chris Cundy and Adam Horovitz have previously created work responding to the Neolithic landscapes of South West England. They have explored archives at Corinium Museum, The Royal Society, and Gloucester Cathedral library. Season two of Archaeology of the Ear was longlisted for best content creator at the 2023 Digital Culture Awards.
"a unique series of programmes" - Annea Lockwood, composer and sound artist
"I was really knocked out by this, terrific!" - Peter Kennard, artist and political activist
Archaeology of the Ear & A Sound Map of The Roman Baths is a partnership with the Roman Baths, Resonance FM, University of Gloucestershire, and the Sound/Image Research Centre at University of Greenwich. Supported by Help Musicians and Arts Council England.
WEDNESDAY 25 OCTOBER  2023 | THE ROMAN BATHS, BATH
doors 8.00PM / performance starts 8.30PM
tickets £7.50 / free with Bath Residents' Discovery Card
www.romanbaths.co.uk
About the artists
Chris Cundy is a composer and performer based in the South West specialising in bass clarinet. Exploring popular and experimental music he has toured internationally as a solo artist, as well as with acts including Timber Timbre, and Somali-Canadian songwriter Ladan Hussein (aka Cold Specks). Recently he featured as solo bass clarinettist alongside the voice of Gillian Anderson for the original motion picture soundtrack Robin Robin (Aardman Animations for Netflix, 2021)
Adam Horovitz is a poet and performer based in Stroud, Gloucestershire. He has published three collections of poetry: Turning (Headland, 2011), The Soil Never Sleeps (Palewell, 2018) and Love and Other Fairy Tales (Indigo Dreams, 2021), as well as a CD of poetry and music, Little Metropolis (2015) and a memoir, A Thousand Laurie Lees (History Press, 2014). He appeared on Cerys Matthews' and Hidden Orchestra's album We Come From the Sun (Decca, 2021).
Residents' Discovery Card
The Discovery Card gives residents of Bath and North East Somerset free access to Council-owned heritage sites, including the Roman Baths, Victoria Art Gallery and Parade Gardens, as well discounts with participating local attractions and businesses. For more information and to apply for a Discovery Card, visit www.bathnes.gov.uk/discoverycard.