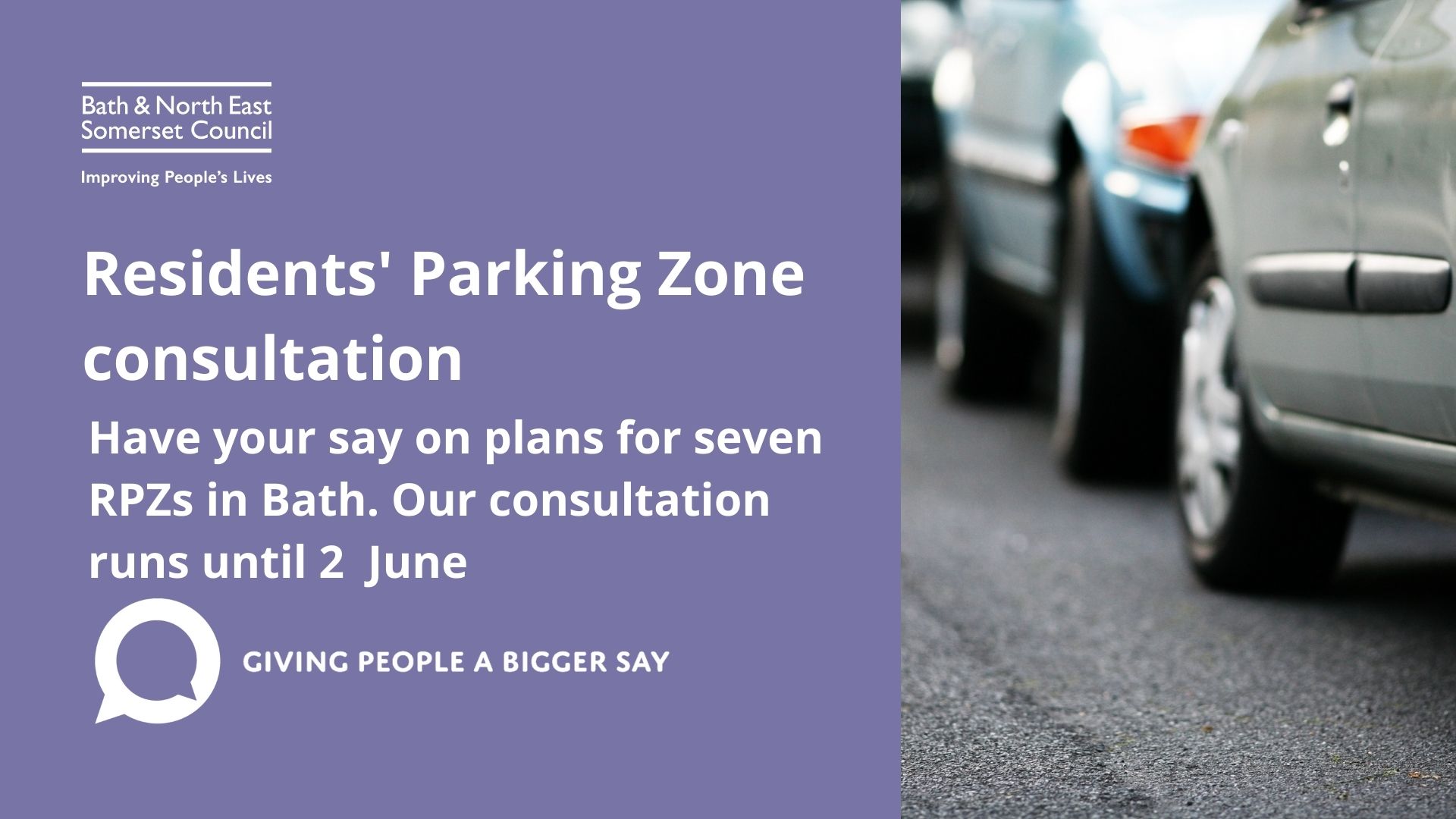 People living in and around seven proposed residents' parking zones - to help create healthier and safer streets linked to Liveable Neighbourhoods plans - are being reminded to have their say.
The consultation, which has included a series of face-to-face events, ends next week on Thursday June 2 at 5pm.
The proposed schemes aim to tackle commuter parking and reduce vehicle intrusion into largely residential neighbourhoods, while also improving air quality and the environment for the local community.
People living in and around the zones, as well as anyone regularly travelling into them, can take part in an online survey at www.bathnes.gov.uk/rpzconsultation  
Those without access to the internet can obtain further information and a printed questionnaire by calling Council Connect on 01225 39 40 41. 
The proposed zones are:
Chelsea Rd, Foxcombe Rd Area  

Lyme Gardens, Charmouth Rd Area  

Sion Hill, Summerhill Road Area

Audley Grove, Edward Street, St Michaels Area

Walcot, Snow Hill, Claremont Rd Area  

Entry Hill Area  

Beacon Hill Area  

 
Following the consultation, the council will review the responses received and decide whether to proceed to the next stage, which is advertising the Traffic Regulation Order (TRO) for further comment or objections.
Councillor Manda Rigby, cabinet member for Transport, said: "I want to thank everyone who has taken part so far either by submitting their views online or attending the events we have been holding. It is important that we get a range of views to balance the needs of communities. We are getting close to the end of this consultation and if you haven't taken part yet we are reminding you there is still time to have your say."  
The residents' parking zone proposals came out of several public consultations on the council's Liveable Neighbourhoods programme, and how the council can help communities to create healthier, safer streets. These seven are in addition to a proposed RPZ scheme for Oldfield Park and Westmoreland.  More than 700 people have already shared their views in a consultation on this proposal, and the next step is the formal consultation on the Traffic Regulation Order (TRO) later this summer. 
Residents' parking zones are just one of a range of interventions available to local communities looking to create Liveable Neighbourhoods as part of the council's Journey to Net Zero ambitions.
ENDS
Note to editors
Last year the council allocated an initial £2.2m to develop and deliver Liveable Neighbourhood schemes.  Areas were selected for Liveable Neighbourhood treatment by cabinet in June 2021.   
The 15 Liveable Neighbourhood areas are:
Mount Road (Southdown, Bath)

Area bounded by Sydney Place, Great Pulteney Street, St Johns Road and Bathwick Street (Bathwick, Bath)

Whitchurch and Queen Charlton Village (Publow with Whitchurch and Saltford)

Circus, Lower Lansdown, Marlborough Buildings, Royal Victoria Park and Cork Street area (Kingsmead and Lansdown, Bath)

Oldfield Lane and First, Second and Third Avenue (Oldfield Park, Bath)

London Road, Snow Hill, Kensington Gardens and adjacent roads, (Walcot, Bath) Phase 1

Church Street and Prior Park Road (Widcombe and Lyncombe, Bath)

Chelsea Road, Foxcombe Road (Newbridge, Bath)

Entry Hill (Widcombe and Lyncombe, Bath)

Southlands, Weston, Bath 

Morris Lane and Bannerdown (Batheaston, Bathavon North)

(New) Sydney Place and Sydney Road (Bathwick, Bath)

Egerton Road and Cotswold Road (Moorlands, Bath)

Temple Cloud (Mendip)

Lyme Road and Charmouth Road (Newbridge, Bath)
For the five pilot interventions, preliminary designs will be drawn up and consulted on before they are trialled in-situ for further comment and amends by the public. These pilot interventions are in the following locations: 
Queen Charlton Lane, Whitchurch (Publow with Whitchurch and Saltford)

Southlands (Weston, Bath)

Church Street (Widcombe and Lyncombe, Bath)

Royal Victoria Park, Bath (Kingsmead and Lansdown, Bath)

Cork Street and Tennyson Road (Kingsmead and Lansdown, Bath)
The remaining areas are progressing to a co-design phase which ends in July with the community 
Journey to Net Zero is a longer-term plan to reduce the environmental impact of transport in Bath and to tackle some of the biggest challenges we face:
Combatting climate change

Improving air quality

Improving health and wellbeing

Tackling congestion
Journey to Net Zero, focuses on providing transport infrastructure and environments that will encourage the use of sustainable modes of transport, by making them a genuine alternative to the car while maintaining access for those whose needs cannot easily be met by more sustainable modes of transport.