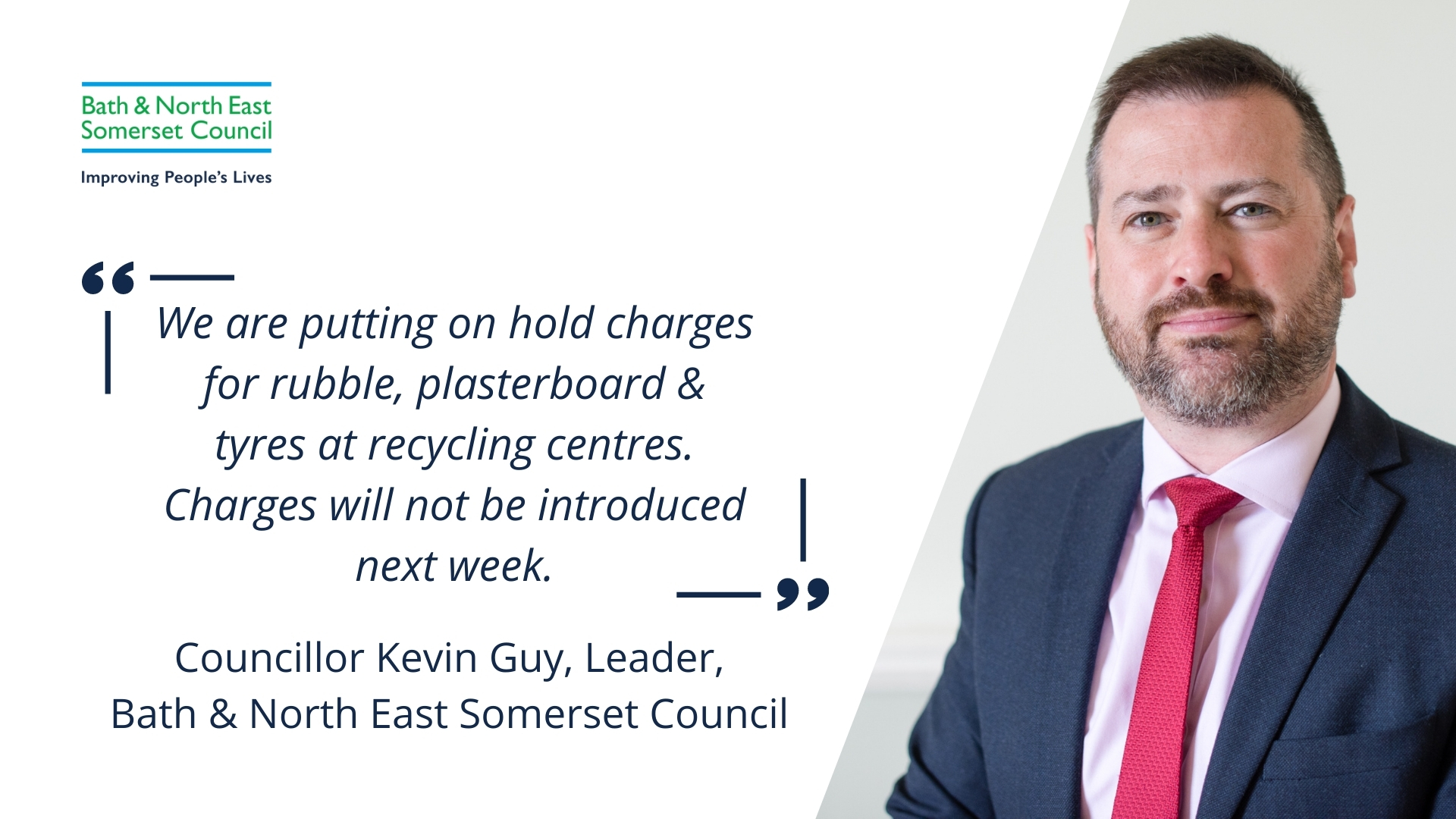 Bath & North East Somerset Council leader Councillor Kevin Guy has announced that the council is putting on hold planned charges for rubble, plasterboard and tyres at its recycling centres - and is looking at finding alternative savings to balance the council's budget.
The planned charges - due to have come in on Monday, May 24- would have seen residents pay £2 to dispose of a bag of rubble, £4 for a bag of plasterboard and £3.50 for car tyres, but with residents still being able to dispose of their household and garden waste free of charge at all three recycling centres.
However, the council has now put these plans on hold. This follows concerns raised by residents and parish councils- particularly about the unintended consequences of introducing the fees - and also a government consultation on consistency in recycling services across the country, which could mean any charges introduced having to be removed at a later date. 
Council Leader Councillor Kevin Guy made the announcement at last night's (May 24) cabinet meeting.
He said: "We are putting on hold the charges for rubble, plasterboard and tyres at recycling centres. Charges will not be introduced next week.
"I know how important it is both that we listen to residents and that we respond swiftly to changes in circumstance.
"Two things have changed since the decision was made to introduce these charges at recycling centres.
"First, I was elected Leader and I reaffirmed that we are a listening council. cabinet member Councillor Wood and myself have listened to local residents and parish councils who say they are concerned about the unintended consequences of these charges.
"Second, circumstances have changed. The government have launched a consultation about consistency in recycling services in England. Bringing in charges now, only to change them later following government instruction, would be confusing for residents and would add to our officers' administrative burdens.
 "We will look again at how to make alternatives savings to balance the Council's budget."
Councillor Dave Wood, Cabinet Member for Neighbourhoods, added: "I'm pleased the government is seriously looking at new rules that would mean a 'win-win' for council taxpayers and DIY-ers whilst helping us deliver our recycling and climate emergency commitments.
"It's time we started thinking differently about who pays for recycling. We need new funding streams so that council taxpayers in areas such as ours which prioritise recycling of a wide range of materials don't lose out. So we will also be lobbying central government for new legislation so that funding to recycle these materials comes from producers rather than council taxpayers."
​​