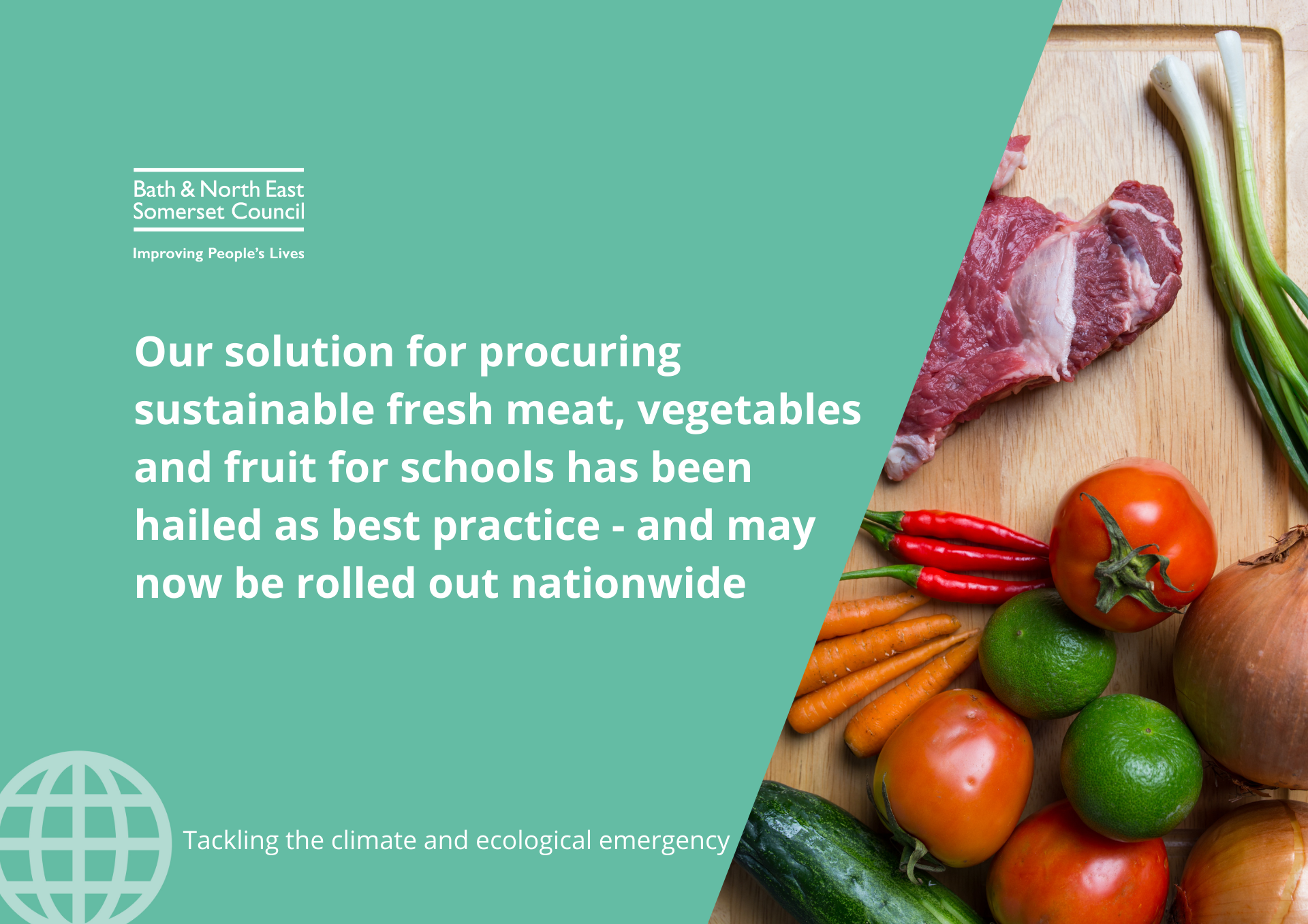 A procurement system for providing sustainable fresh meat, vegetables and fruit to schools which was designed, developed and piloted by Bath & North East Somerset Council has been hailed as best practice by a Commons Select Committee and may now be rolled out nationwide.
The Dynamic Food Procurement System (DFP), piloted by the council in 2016, has been praised by MPs as an exemplar model of sustainable food procurement for the future. The Committee recommends prioritising its introduction nationwide to source food for schools, prisons and hospitals.
The system, which encourages increased uptake of healthy, organic, seasonal and sustainable food, was designed to increase opportunities for local and regional businesses to competitively tender alongside larger suppliers, bringing benefits to the local economy while supporting local jobs and skills.
The procurement route was used to provide 7,000 meals on a daily basis across Bath and North East Somerset with increased use of locally produced food. This saved the authority 6% in cost on its previous contract whilst at the same time bringing a range of environmental and social benefits, through short supply chains meaning reduced food miles and carbon emissions and more seasonal fresh produce provided in meals.
It also strengthened school pupils' understanding of where food comes from in their school meals, through some producers' involvement in a pupil Cook Off event. 
The system will now be piloted across the South West by the Government's Crown Commercial Service with a view to being adopted nationwide.
Councillor Richard Samuel, acting council leader and cabinet member for Resources, said: "This is a wonderful example of innovative practice by the council. By thinking differently, we were able to reduce our impact on the environment while also supporting local businesses and saving money. The fact that the Government is now looking to roll the 'B&NES model' out nationwide is testament to the fantastic work carried out by our procurement team."
As part of the procurement process the council agreed a partnership with food logistics company Fresh-range which took on responsibility for order consolidation and delivery. An online platform was then developed in consultation with producers, suppliers and schools. 
The platform enables producers who meet selection criteria for food production standards, such as the Red Tractor label (or higher) for meat and the Red Lion label for eggs, to tender to supply individual products rather fulfil the entire contract. Suppliers were then ranked on the platform with schools ordering directly online, receiving one or two consolidated deliveries a week rather than multiple deliveries from different suppliers.
As the originator of this new method of food procurement the council is now supporting the National Advisory Board.
ENDS