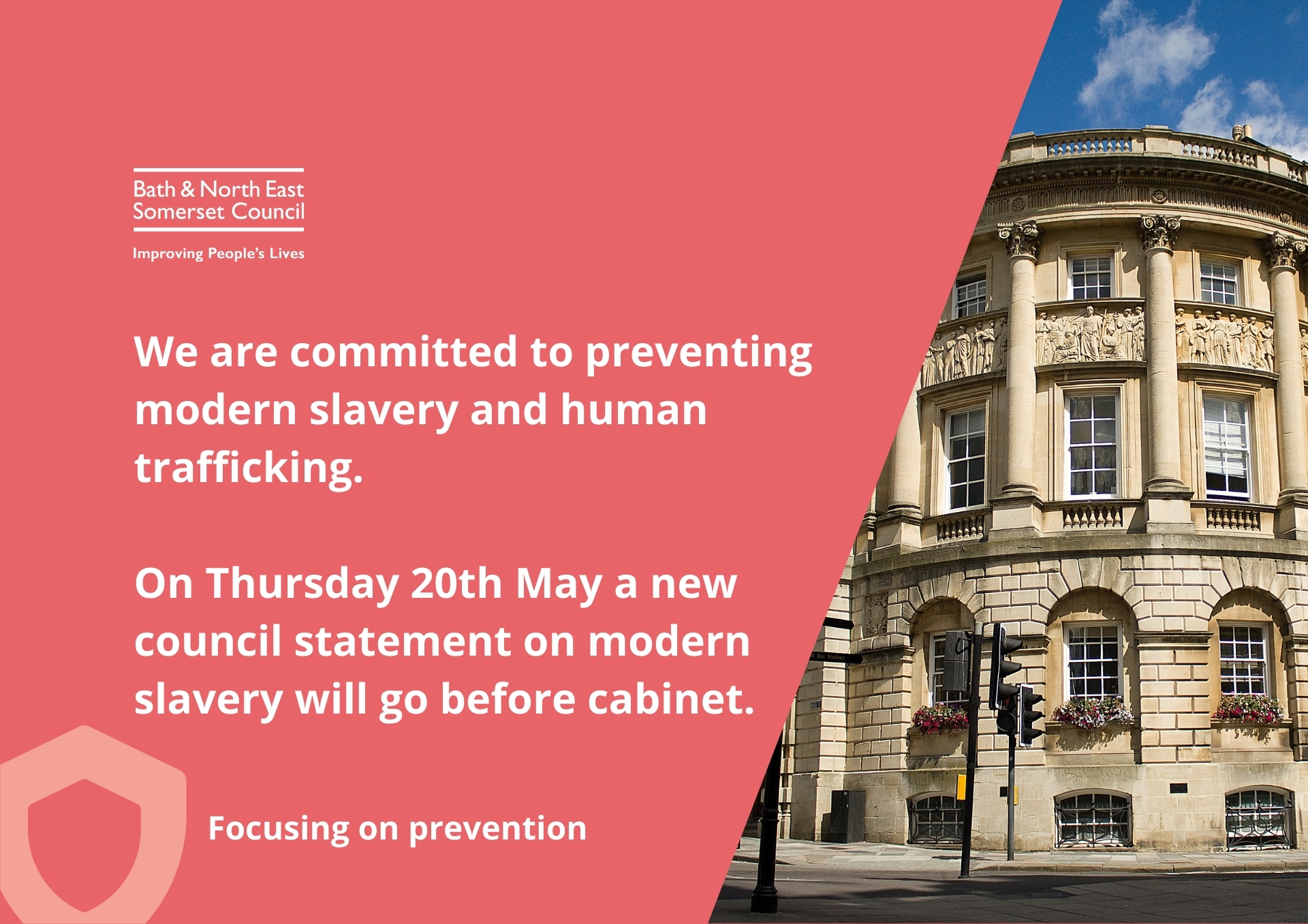 Bath & North East Somerset Council is set to take further action to prevent people becoming victims of Modern Slavery.
A report to cabinet on Thursday 20 May recommends that the council signs a Modern Slavery statement, updates its Code of Conduct for suppliers and carries out additional auditing and monitoring of suppliers to ensure its supply chains are free from slavery and human trafficking.
Councillor Richard Samuel, Deputy Leader and cabinet member for Resources & Economic Development said: "Bath & North East Somerset Council abhors modern slavery in all its forms and is committed to putting in place processes to prevent and eradicate it.
"Our Modern Slavery Statement sets out the steps we've taken to date aimed at making sure that our services, businesses and supply chains do not have links to modern slavery. It also outlines the additional actions we plan to take over the coming year to further mitigate the risks in our supply chains."
Modern slavery is often a hidden crime involving one person denying another person his or her freedom. It's an umbrella term which encompasses human trafficking, slavery, servitude and forced labour. High-risk jobs include cleaning, catering, security guards, care workers and people working in the construction industry.
From April 2021 public sector organisations, including local councils, must develop an annual Modern Slavery Statement. Bath & North East Somerset Council's Strategic Procurement team have been working with colleagues from the Equalities team and Trading Standards to develop and coordinate the council's approach.
The council already requires companies bidding for contracts to confirm they meet the requirements of the Modern Slavery Act 2015. Those that can't demonstrate they comply are excluded from tendering for work.
However, the report recommends the council takes further action to prevent modern slavery over the coming year by updating its Code of Conduct for suppliers to include a section on Modern Slavery which outlines the standards it expects contractors to meet.  
It also recommends expanding the questionnaire in tender documents to include specific questions relating to suppliers' supply chains, how susceptible they are to Modern Slavery and the due diligence processes they will adopt to prevent it. 
Should a victim of Modern Slavery be identified, the council will report it to law enforcement agencies. If the victim is in immediate danger, it would be reported to the police as an emergency. The council will work with other agencies, suppliers and public bodies to address instances of Modern Slavery. It can terminate a contract where necessary and in instances where this action would not result in conditions worsening for the workers involved.
The report also recommends the council engage directly with current key suppliers to find out what they are doing to eliminate Modern Slavery in their own supply-chains.
The report emphasises the need to share learning on Modern Slavery with partners and keep them informed of any suppliers or contractors where the council has concerns.
To read the full report visit this page
ENDS