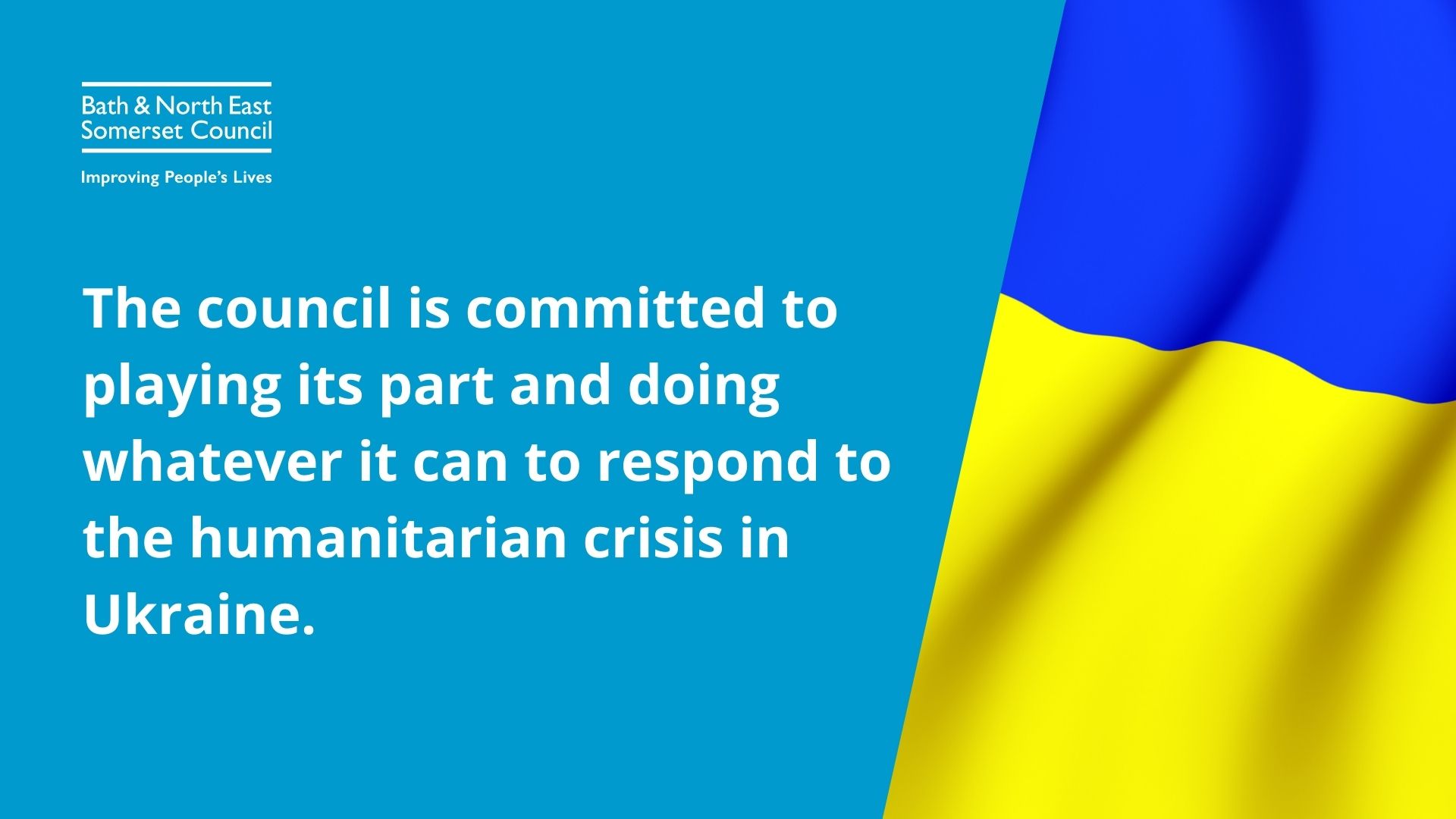 Residents in Bath and North East Somerset who have offered accommodation for Ukrainian refugee families under the government's Homes for Ukraine scheme are being thanked by the council for their support.
So far approximately 100 people have been matched to hosts and properties across B&NES under the government's scheme.
The first families are expected to arrive shortly and will join those who have recently arrived under the Ukraine Family Visa Scheme.
Bath & North East Somerset Council is also working with partners including Julian House and Bath Welcomes Refugees, along with local public services, to ensure school places, health and other support are in place as people arriving from Ukraine settle into our communities.
Residents who wish to sponsor named people in Ukraine and can offer accommodation are encouraged to register with the Homes for Ukraine scheme.
Residents wanting to offer support but who don't know anyone to sponsor are being invited to get in touch with charities helping with the matching process.
There are also people in B&NES already under the Family Visa Scheme who are looking for self-contained flats and houses to rent rather than rooms in family homes. If residents are struggling to find people to sponsor for the self-contained flats and houses they have offered, they should contact the council at Equality@bathnes.gov.uk or Bath Welcomes Refugees at info@bathwelcomesrefugees.org.uk.
Councillor Kevin Guy, council Leader, said: "We are continuing to support people arriving from Ukraine and their sponsors in every way we can. We are grateful for the generosity residents have shown in opening their homes to refugees and we look forward to welcoming the first arrivals soon. The scheme is still open so please register if you have accommodation available."
Councillor Dine Romero, cabinet member for Children and Young People, Communities and Culture, said: "We are working closely with schools and other public services such as health to make sure we have the right support in place. I want to say a big thank you to everyone who is helping us provide this help. There are other ways we can help too - particularly by contributing to the Disasters Emergency Committee Appeal, UNICEF and the British Red Cross."
More information about helping Ukraine can be found on the council's dedicated Support Ukraine web page.
Bath Welcomes Refugees is advising people who don't have named contacts with anyone in Ukraine but wish to offer support to get in touch with the following charities:
Under the Homes for Ukraine scheme, sponsors offer accommodation to named people who have been displaced by the terrible impact of Russia's invasion. Once there is a "match", this must be followed by a visa application process and other checks. Subject to these checks, the displaced people can travel to the UK and take up the accommodation and will have rights to work and benefits. There is a monthly £350 'thank you' payment to sponsors regardless of how many refugees they sponsor.
ENDS