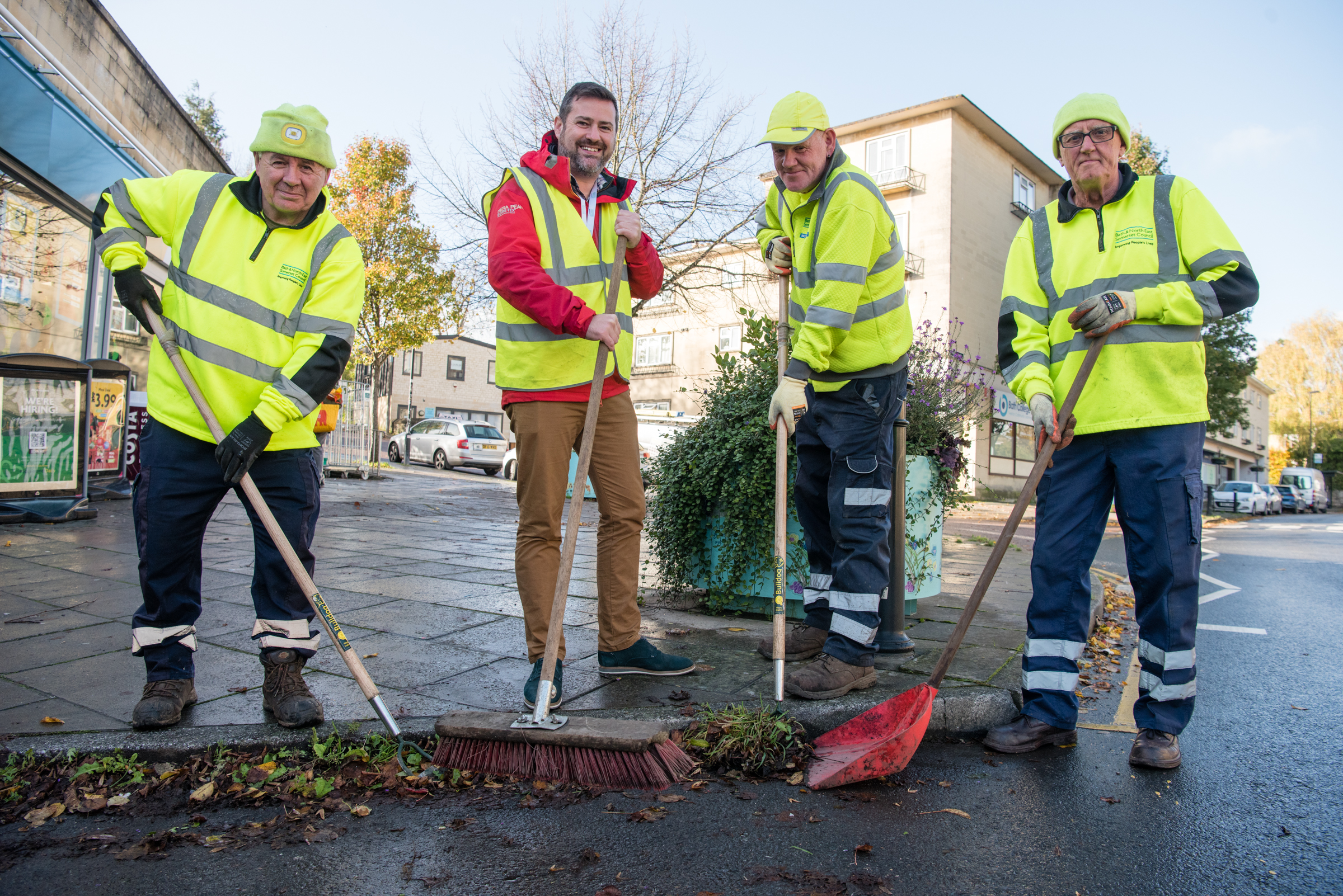 More than 25 tonnes of debris, leaves and weeds – the equivalent weight of a full waste truck – have been collected by Bath & North East Somerset Council's Clean and Green team in just six months.
The snapshot figure covers the team's work responding to more than 400 resident, town, parish and councillor requests, since June alone.
Additional council funding has been invested into the Clean and Green programme, which is now in its second year, benefitting neighbourhoods with the team responding to street cleansing requests, tackling weed removal, cleaning road signs and removing graffiti.
Since Clean and Green was launched in June 2022 every ward in the Bath & North East Somerset has been spruced up with the team receiving positive feedback from residents, town and parish councils and councillors
Councillor Kevin Guy, who met the team working in Twerton High Street this week, said: "We invested in this programme and the hard work of the crews, who are out and about in all weathers, is making a big difference. It was great to meet some of our Clean and Green team this week who are doing a great job – and who appreciate all the positive feedback they get from residents."
Most recently feedback includes this message from one Saltford resident: "Thank you for the fantastic job you have done in clearing weeds from the kerbs and pavements along Claverton Road in Saltford recently. It has made a huge difference to the look of our street. Many Thanks to all the team'
And this from another B&NES resident: "Thank you to the team who have been cleaning The Shrubbery, off Lansdown Road/next to Hope House. It looks great and the team are a credit being so cheerful, polite and thorough."  
Councillor Guy added: "The team also works with organisations and volunteers who give up their time to keep B&NES clean and green with their litter picks – thank you to everyone who gets involved to keep our city, towns and villages clean."
Details of how to report an issue, or request graffiti removal from a property is on the council's website  as well as a newsletter with lots of before and after images of the work the team has done.  
Public highway or cleansing issues can be reported on the council's Report it page.
If you would like to borrow the weed removal equipment, you can email your local No Place For Litter hub. The details are on the council website.
ENDS
Pictured are some of the Clean and Green team with Councillor Kevin Guy working in Twerton High Street.