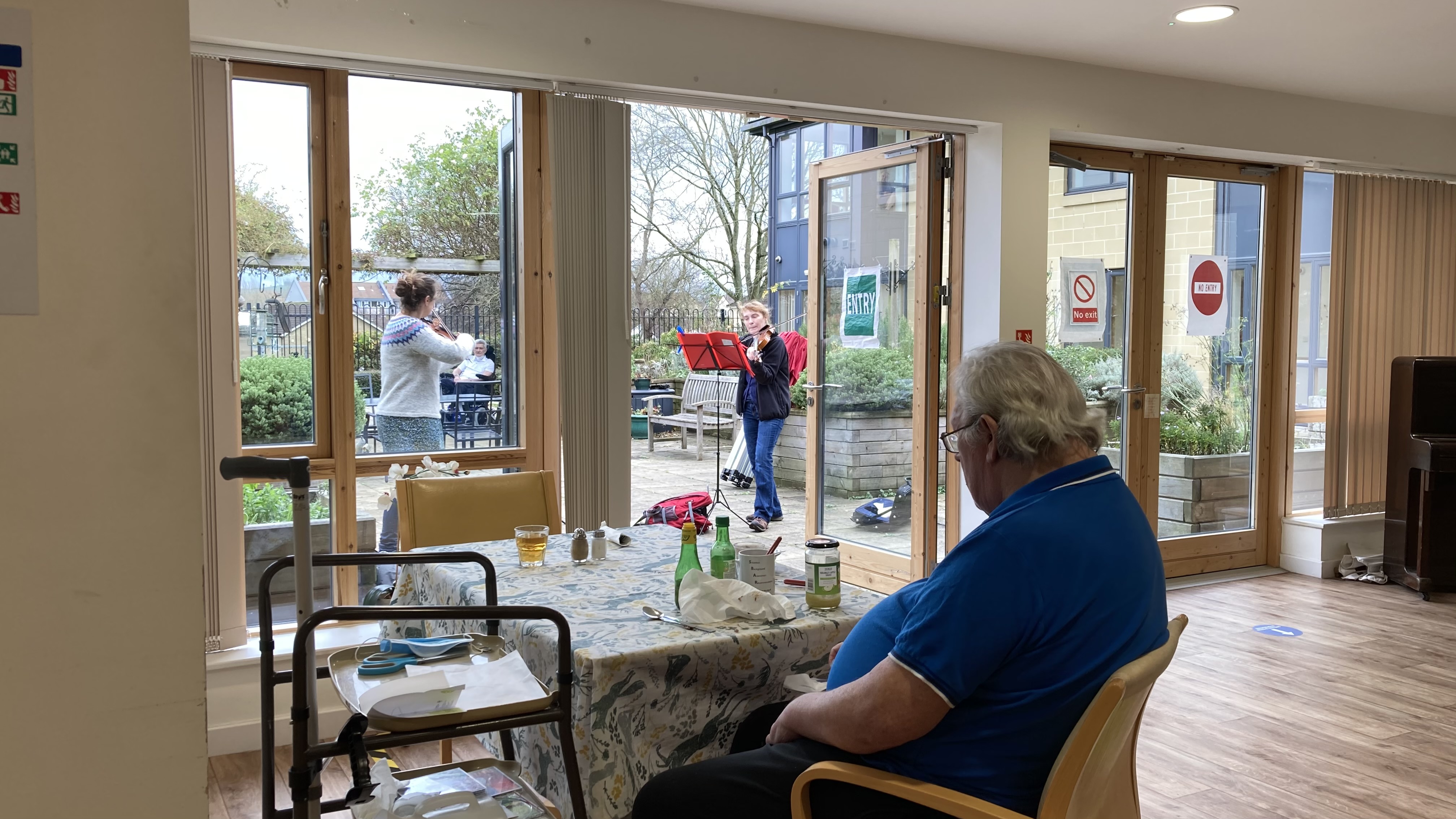 Staff at care homes and sheltered housing schemes across Bath and North East Somerset have been working hard and getting creative to keep resident's spirits up during lockdown.
From karaoke singalongs to poetry recitals, residents have been treated to a varied range of performances and encouraged to get involved.
Earlier this week residents at Hawthorn Court sheltered housing in Keynsham enjoyed an alfresco violin concert performed by 'Concert On Your Doorstep', Bath musicians Lucy Hewson and Rebecca Prosser. The performance was organised by housing association Curo.
Terri Underhill, Curo's sheltered housing officer, said: "The music was marvellous and the talent incredible and I was touched that one lady in her 90's wrote to me to say how much she had enjoyed it. The tunes were uplifting, with residents tapping and humming along and we had a chuckle when they played 'The sun has got his hat on' as the wind blew and it began to spit with rain! If we can book them in, we are looking forward to having them back to play some Christmas tunes next month."
Councillor Rob Appleyard, cabinet member for Adult Services, added : "Despite the coronavirus restrictions our care home and sheltered housing staff have adopted a real 'can do' attitude to ensure life continues in as normal a way as possible. Providing live entertainment is a challenge, but fortunately the weather was kind during the violinists performance and the residents were able to enjoy the music from the dining hall or the comfort of their rooms."
While relatives and friends are really encouraged to keep in contact with residents via the phone or other virtual methods, care homes and sheltered housing schemes do remain open to visitors unless there is a confirmed case of Covid-19 amongst staff or residents.
All visitors must adhere to the safety measures in place at each individual home, such as wearing PPE in order to protect residents and staff.
Ends