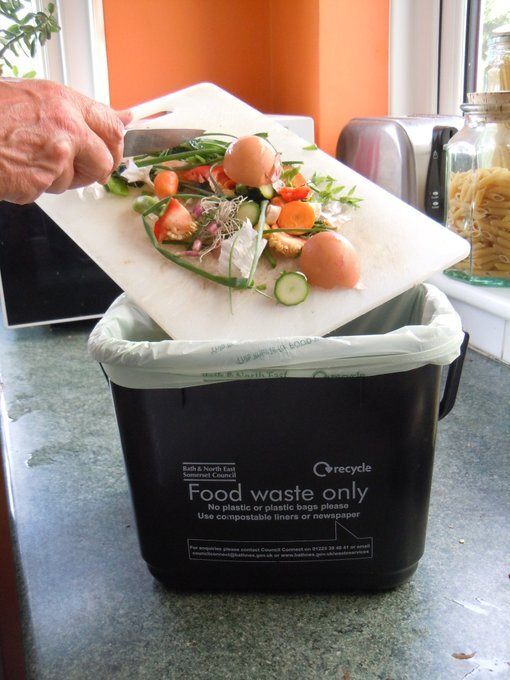 More than 220 households in Keynsham are set to take part in a project to reduce food waste in a local pilot scheme to encourage more recycling across Bath and North East Somerset.
Food waste makes up 30% of what is thrown away in household rubbish bins in the district and although Bath & North East Somerset Council recorded a rise in overall recycling rates during the Covid-19 pandemic, the amount of food waste ending up in  household rubbish bins unnecessarily needs to be reduced.
The council is running the six-week local food waste project in November and December with 229 households in Keynsham, to find out what the barriers to recycling might be and how it can help make the process easier for people.
Working with its food waste partner GENeco, the council will offer residents food waste reduction tips, information leaflets and any household not currently recycling food waste will receive new food bins and caddies.
After the project is completed, the council will review whether food waste recycling in the pilot areas increased and invite residents to fill in a questionnaire to find out their views. If an upturn in recycling is seen, the project will be rolled out to other areas of the district in 2021.
Households chosen to take part will be notified by letter by the end of this week.
Councillor David Wood, cabinet member for Climate Emergency and Neighbourhood Services, said: "Although it was great news that our recycling rates went up during lockdown, from analysing what is placed in household rubbish in B&NES we know that 30% of an average bin is made up of food waste. Food waste is a valuable resource that we need to make the most of rather than throwing it away. The food waste we collect from your homes is taken to a local processing plant and turned into compost, for agricultural use and to provide electricity to local homes, so we need to make use of every bit of it.
"I hope the pilot project we're doing with households in the areas of Keynsham we've selected will help spread the word about how easy recycling is and pave the way for increasing food waste recycling across the whole district next year."
Recycling your food waste can be done in three easy steps:
Line your kitchen caddy with a biodegradable

liner or newspaper 

Recycle all your raw and cooked food waste including fruit and vegetable peelings, plate scrapings and bones

Empty this into the larger food waste bin which will be collected with the rest of your recycling
Residents can see for themselves the fascinating process of how food waste collected in Bath and North East Somerset is transformed into electricity and biogas. The council has partnered with the recycling and renewable energy company GENeco to produce a video showing the 'circular economy' where nothing is wasted. To watch the film visit: https://youtu.be/2I8Tjb4Fy-Q
To find out more about the council's recycling services, how to order a food waste caddy or join the collections visit: https://beta.bathnes.gov.uk/recycling
For tips on how to reduce food waste and save money visit: www.lovefoodhatewaste.com
ENDS