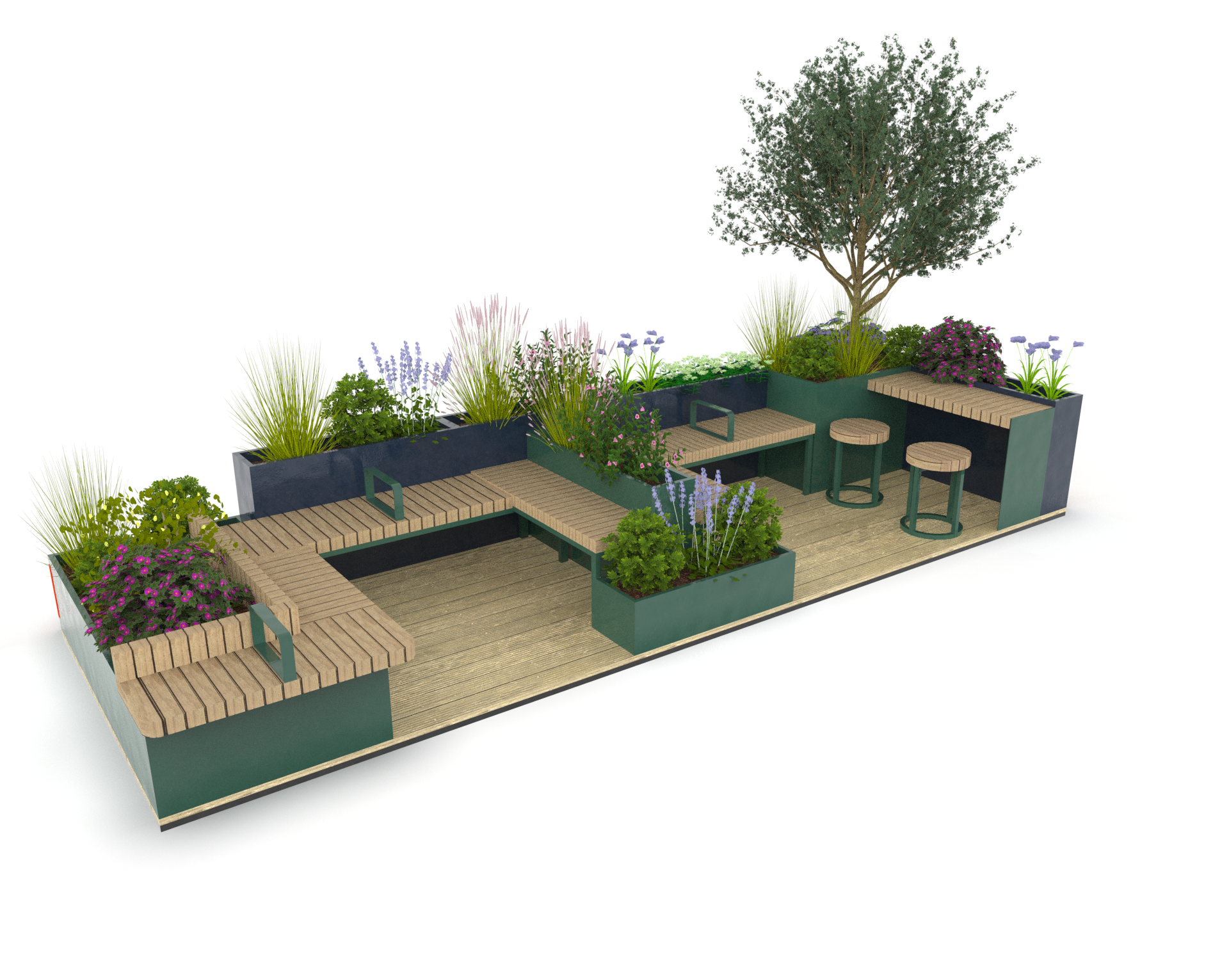 Works to improve Temple Street in Keynsham with new paving, planting, cycle parking and better disabled parking will begin in the New Year.
Following a consultation led by Bath & North East Somerset Council, public feedback has informed changes to the original design which now retain more car parking spaces whilst also providing more greening and cycle parking.
From week beginning January 9, the site will begin to be set up and materials delivered. New pavements made of natural stone will start to be laid on the west side of the street, as well as upgraded lighting and drainage, increasing the pavement width and improved disabled parking bays to meet modern standards.
New planters and parklets will also be installed to increase greenery on the Riverside development side of the street, along with new seating and cycle parking as part of the scheme.
The changes to car parking consists of two large bays being altered on the east side of the street to introduce additional seating and greening. These are being installed on a trial basis before the council decides whether to seek further funding to make the changes permanent.
In addition, on the west side of the street approximately 8.4m of parking will be altered to extend the size of disabled car parking bays, making them compliant with modern standards, and for preparation works to be carried out for a new pedestrian crossing to be installed as part of a future phase.
Works are being carried out in phases to minimise disruption to residents and businesses and will be carried out by the council's highways contractor Volker. Works are dependent on weather conditions but are expected to be completed in May 2023.
The Temple Street Improvement Project is part of Keynsham High Street Heritage Action Zone Programme (HS HAZ) a heritage-led renewal programme that aims to continue to make Keynsham High Street a more vibrant place for residents, businesses and visitors.
The project is funded by Historic England with match funding from Bath & North East Somerset Council and Keynsham Town Council.
Councillor Mark Roper, cabinet member for Economic Development, Regeneration and Growth, said: "I'm pleased that we will shortly be beginning this important scheme to improve the whole environment of Temple Street for everyone who visits, works at or lives in the area. We are grateful to the many people who took the time to respond to our consultation last year. We have listened to the feedback and acted on it to change the final design, which means keeping more car parking spaces and providing more greenery. We apologise for any disruption during the works and we are working with our contractor to keep this to a minimum."
To support local businesses in Keynsham, in early 2023 a new Keynsham Town Centre Business Directory will be launched alongside a marketing campaign to promote the Town Centre. This project is also supported by the High Street Heritage Action Zone Partnership made up of Keynsham Town Council, B&NES Council and Historic England.
Councillor Andy Wait, chair of Keynsham Town Council, said: "The steering group for the Temple Street improvements have listened very carefully to all who have taken part in the consultation around this work.  It is an impossible task to satisfy all requirements.  We have had many serious discussions and are confident that we are close as we can be to the best compromise.  I believe that most people will enjoy the extra facilities and freedoms the new space will offer and look forward to seeing the plan reach fruition."
Rebecca Barrett, Regional Director at Historic England, said: "We're delighted that the improvements to Temple Street will be starting in January, delivering positive changes we know local people are keen to see. Well done to all involved in reaching this major milestone in the Keynsham High Street Heritage Action Zone."
For more information on the improvement project visit https://www.hikeynsham.co.uk/event/temple-street-public-realm-improvement-project/
Anyone with questions or comments about Keynsham HSHAZ can email KeynshamHSHAZ@Bathnes.gov.uk or write to Keynsham HS HAZ Project Team at the Keynsham Town Council Office, 15-17 Temple Street, Keynsham, BS31 1HA.
ENDS
About High Streets Heritage Action Zones
The High Streets Heritage Action Zones is a £95 million government-funded programme led by Historic England, designed to secure lasting improvements and help breathe new life into our historic high streets for the communities and businesses that use them. Historic England is working with local people and partners to unlock the rich heritage on these high streets, through repair and improvement works as well as arts and cultural programmes, making them more attractive to residents, businesses, tourists and investors. https://historicengland.org.uk/services-skills/heritage-action-zones/regenerating-historic-high-streets/
More information about the consultation process (including further research, additional residents and business consultation) and design changes as a result can be found at hikeynsham.co.uk/event/temple-street-public-realm-improvement-project/ Information can also be access via Keynsham Library or Keynsham Town Council. 
Keynsham HS HAZ Further Information
Keynsham is one of more than 60 high streets across the country that were successful in receiving funding from Historic England. It was awarded £1.1million as part of Historic England's High Streets Heritage Action Zone (HS HAZ) Programme with additional match funding from Keynsham Town Council and Bath and North East Somerset Council (B&NES). This four-year programme (completion date March 2024) has been match funded by Keynsham Town Council (£40,000) and Bath and North East Somerset (B&NES) who have contributed £100,000 from the Community Levy Infrastructure.
HS HAZ is a partnership programme between B&NES, Keynsham Town Council and Historic England. HS HAZ is a heritage led renewal programme, making Keynsham High Street a place where people want to live, work and play. It will enable us to harness Keynsham's historic environment to generate economic growth and improve quality of life in the town centre.
This will be achieved through four key programme strands: public realm improvements, shop front improvements, community engagement and cultural programmes.
Keynsham Local Cultural Programme Further Information
The £7.4 million High Streets Cultural Programme is part of the £95 million High Streets Heritage Action Zones initiative, which is currently working over 60 English high streets. It is funded with £40 million from the Department for Digital, Culture Media and Sport's Heritage High Street Fund, £52 million from the Ministry of Housing, Communities and Local Government's Future High Streets Fund, and a further £3 million from the National Lottery Heritage Fund.
Cultural activity funded by the local grants scheme will take place over the next three years, in tandem with the national commissions organised by Historic England. For the national commissions, artists will work with communities and co-produce artworks inspired by England's changing high streets. Together, the local grants scheme and the national commissions make up the Cultural Programme.