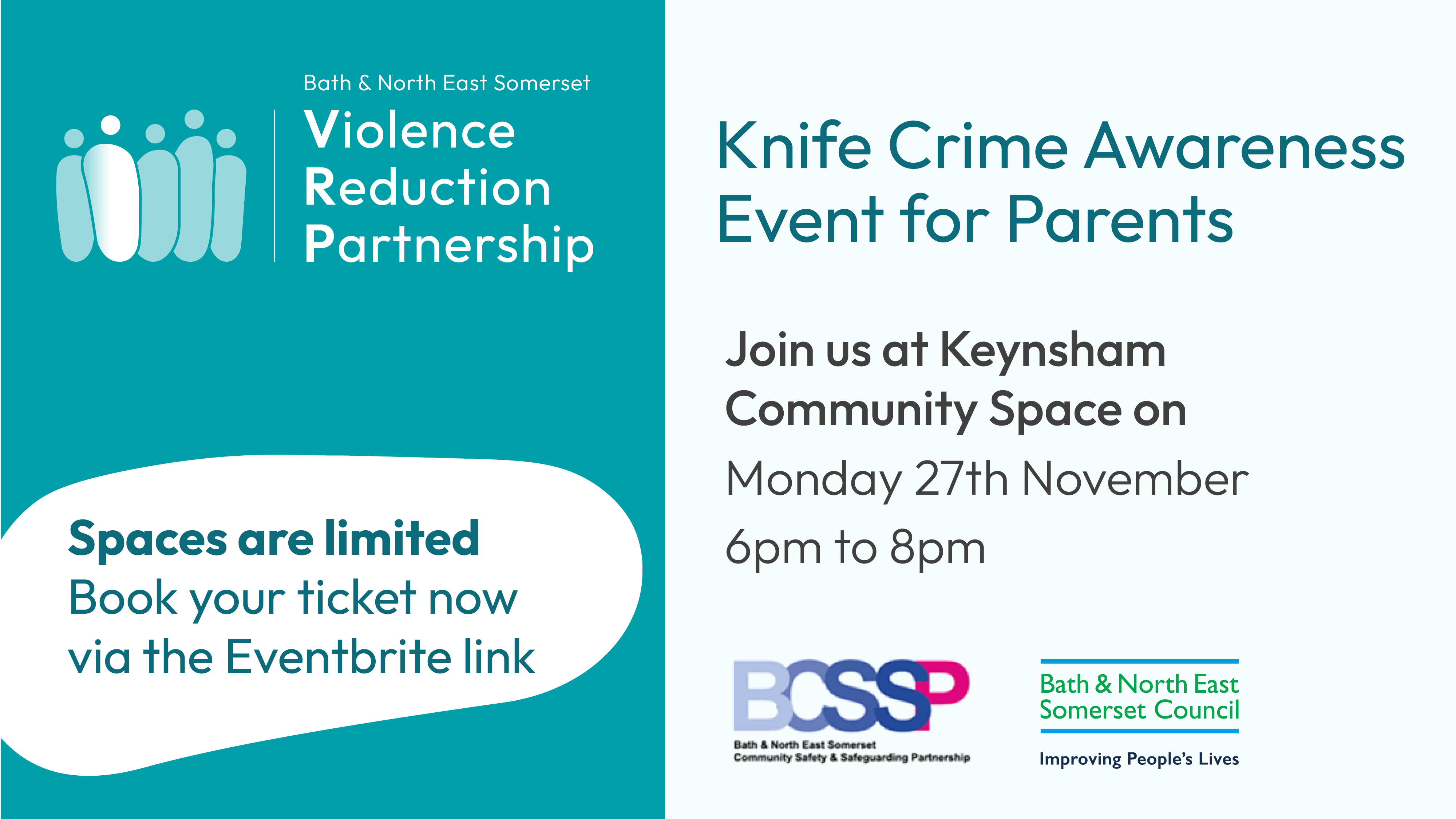 Parents and carers in Bath and North East Somerset who want to learn more about the dangers of knife crime are invited to join an awareness event in Keynsham on November 27.
The event will include a talk from a parent who has personally been affected by knife crime and aims to increase awareness of key issues surrounding it, empowering parents and children to make informed and positive decisions to stay safe.
The event at Keynsham Community Space from 6pm to 8pm on November 27 is being held by the Bath & North East Somerset Violence Reduction Partnership (VRP), a multi-agency partnership that aims to prevent and reduce violence in the area.
There will also be a presentation by Street Doctors, which trains young people with first aid skills to become lifesavers in their communities, followed by a panel discussion with members of the partnership.
People attending will have the chance to ask questions which should be submitted in advance by email to: vru_events@bathnes.gov.uk. Spaces at the event are limited and free tickets can be booked in advance via Eventbrite.
The VRP works to understand and address the root causes of violence, to prevent further violent crimes from occurring in the future. It also provides resources and supports the work of professionals and community groups who help children at risk or involved in serious violence.
It is made up of representatives from Bath & North East Somerset Council, Avon and Somerset Police, DHI Project 28, Youth Connect Southwest, NHS and more.
Councillor Paul May, cabinet member for Children's Services, said: "It's imperative that we work together to protect young people from becoming victims of or involved with knife crime and raise awareness of the issues around it. Parents, carers and family members can play a vital role in stopping knife crime becoming a part of your young people's lives, by talking to them about the dangers to help keep them safe.
"People attending this event will hear first-hand from a parent who has sadly been affected by this violent crime, as well as have the chance to access information and advice from local organisations. By talking together we can grow our own awareness and help children to stay safe, so I'd encourage as many parents and carers as possible to attend."
ENDS