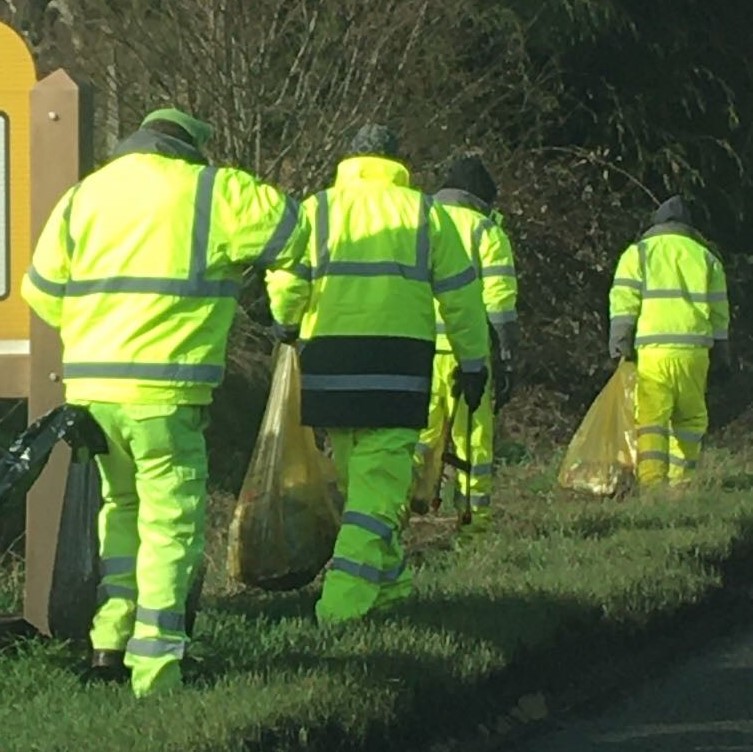 Litter in hedgerows and verges on the busiest high-speed roads across Bath and North East Somerset is being tackled in a seven-week clean-up operation.
Bath & North East Somerset Council's cleansing teams will pick up unnecessary rubbish thrown from vehicles onto verges of A and B roads in a blitz starting this week.
Traffic management will be in place as the teams clean up more than 150 miles of verges at a cost of £18,000 to the council.
Last year crews collected more than 188 bags of unnecessary waste weighing in at 3.5 tonnes, the equivalent of a light goods vehicle.
Councillor David Wood, joint cabinet member for Neighbourhood Services and Climate Emergency, said: "The rubbish in our hedgerows and verges is completely unnecessary and is only there because of people's carelessness. Most of it is fast-food packaging and items thrown from vehicles. Litter is not only an eyesore but damages the environment and wildlife too.
"Our clean-up operation is expensive, time consuming and dangerous for our crews and it's frustrating that this time and money could be better spent on other essential services for residents. However, we want to keep our countryside looking beautiful, which is why we have dedicated funding to carry this out each year. We apologise for any inconvenience caused to drivers during the clean-up."
Litter picking schedule for 2021*
 * subject to change depending on weather conditions:
 A4 - 6 days TBC
Keynsham Bypass and from Globe to 3 Lamps Junction - 6 days TBC
A46 - 1 days TBC
Batheaston bypass - all during night road closure by Highways England - 1 day TBC 
A4 - Feb 15 and 16
London Rd to Bathford Rnd About (Box Rd) - 2 days TBC
A37 - Feb 17 and 18
A368 - Feb 22 and 23
Globe Pennyquick (Whiteway Rd) to Haycombe Cemetery - Feb 19
A39 - Feb 24 to 26
B3116 Junction A39 to Keynsham - March 1 and 2
Woollard Lane & Chalton Road to Keynsham - March 3 and 4
A367 - March 8 and 9
B3115 Tunley Road - March 5
B3130 Chew Magna to A37 Pensford - March 10
B3114 Chew Magna to Border - by Sherborne Farm - March 11 to 15
B3355 Hallatrow to A362 - March 16
A362 Farrington - Old Mill Ind Estate - March 17
Queen Charlton Lane - March 18 and 19
Stockwood Lane - March 22
Staunton Lane - TBC
A363 Wilts border to Bathford Rnd About - March 21 to 23
Brassknocker Hill - March 24
B3110 Hinton Charterhouse Road - March 25
Claverton Down Road - Brassknocker to Uni - March 26
Lansdown Road to S.Glos border to Fonthill Rd - March 29
Lansdown Lane - Lansdown Rd to Beresford Gdns - March 30
A431 Kelston Road - March 31
A36  Lower Bristol Road Cares Centre to 3 Lamps Junction - April 1
A4 Globe to Car Sales Saltford - April 2
A36 Warminster Road - April 6 and 7
ENDS