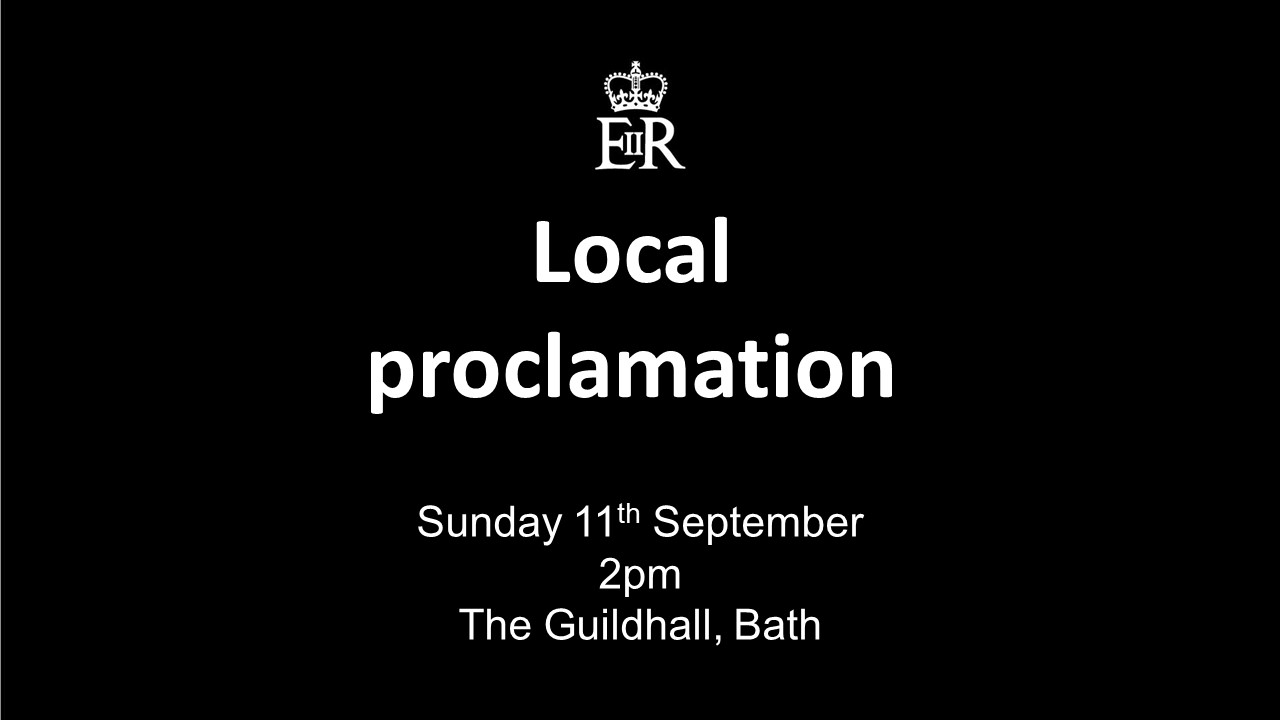 The local proclamation of the new Sovereign, King Charles III, will be read out by the Chair of Bath & North East Somerset Council, Councillor Shaun Stephenson-McGall, at 2pm on Sunday September 11.
The chair will be joined by the Mayor of Bath, Councillor Rob Appleyard and other dignitaries. Members of the public are invited to listen. 
It follows a regional proclamation from the High Sheriff of Somerset, Jennifer Duke, which takes place in Taunton at 1pm on Sunday.
Following the local proclamation Councillor Stephenson McGall and the Mayor of Bath, Councillor Rob Appleyard will lay floral tributes on behalf of the council and people of Bath and North East Somerset in Parade Gardens.
Please note the High Street will be closed to traffic between 1.30-2.30pm and there will be no access to Cheap Street for traffic including Blue Badge holders during the temporary closure. 
Flags flying above the Guildhall, Bath and Keynsham Memorial Gardens and Midsomer Norton Library and Information Service have been lowered as mark of respect to Her Majesty Queen Elizabeth II.
They will be raised for the national proclamation at 11am tomorrow (Saturday September 10) and lowered after 1pm on Sunday. They will be raised for the local proclamation in Bath at 2pm Sunday. Flags will be lowered after the local proclamation and continue to be flown at half-mast until 8am on the day following the funeral.
The Guildhall, Roman Baths and Pulteney Bridge will be illuminated in purple as a mark of respect during the mourning period.
Residents are reminded that books of condolence have been opened at Bath Guildhall, Keynsham and Midsomer Norton Library and Information Service for anyone who would like to pay their respects.
Floral tributes can be left at Parade Gardens in Bath, Keynsham Memorial Gardens and the Hollies Garden, Midsomer Norton and Haycombe Cemetery.
Please note that the Chair's diary of events has been suspended until further notice, and there may be some disruption to services as the council assists with the local response.
For more details visit: https://beta.bathnes.gov.uk/hm-queen-elizabeth-ii
Books of condolence opening hours:
Guildhall, Bath 9.30am to 5pm, Monday to Thursday, 9.30am to 4.30pm on Friday and Saturday

Keynsham Community Space 9.30am to 5pm, Monday to Thursday, 9.30am to 4.30pm on Friday and Saturday

Midsomer Norton Library and Information Service 9.30am to 5pm, Monday to Thursday, 9.30am to 4.30pm on Friday, and 9.30am to 1.30pm on Saturdays
Addresses and opening times for the council's libraries can be found here: https://beta.bathnes.gov.uk/find-library-or-information-and-advice-service
ENDS