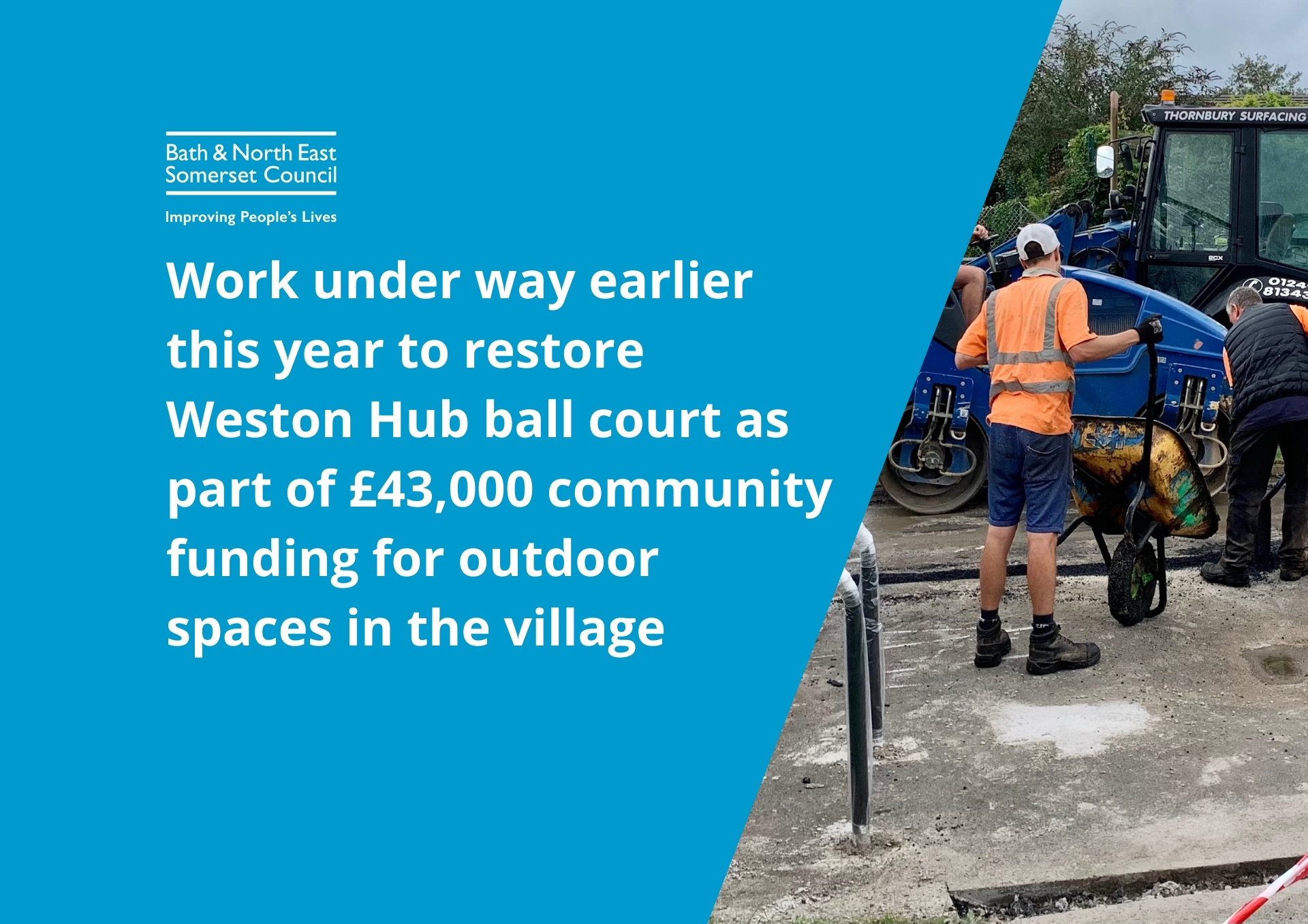 Residents of Weston Village in Bath are set to enjoy improved outdoor spaces following new community funding awarded by Bath & North East Somerset Council.
The Weston Hub and Weston Moravian Free Church in Weston Village have been awarded a total of more than £43,000 in Neighbourhood Community Infrastructure Levy (CIL) grants for improving existing facilities to benefit local people.
The funding will see a complete restoration of the ball court at Weston Hub, the only ball court in the local area, to provide a new ground surface, new fencing, line markings, equipment and controllable lighting. This will mean more opportunities for people in the community to enjoy outdoor sports together.
Also at the Weston Hub, an area of land will become a relaxing garden to provide an outdoor meeting place that people of all ages can enjoy. The Community Garden will be wheelchair accessible and will be maintained by local volunteers.
A further community garden will be created outside the Weston Moravian Free Church. The new garden will have planting, box planting, paved surfaces and benches made of recycled plastic which carry a low maintenance cost.
The projects will be delivered by All Saints Church and Weston Moravian Free Church. All Saints was awarded £39,249.87 in CIL funding and Weston Free Church was awarded £4,476.
Councillor Kevin Guy, Council Leader, said: "It's well documented that spending time outdoors benefits our mental wellbeing as well as our physical health. Community spaces like these exciting ones planned for Weston Village are so important in enabling people to enjoy an active lifestyle on their doorstep with neighbours and friends, without having to travel. Thank you to the ward councillors, Shelley Bromley and Ruth Malloy, for their work on the projects."
The projects are expected to be completed in the next few months.
Sir Peter Heywood of All Saints Church said: "We are delighted to receive this funding to improve our local facilities. The ball court will be equipped for basketball, netball, volleyball, 5-a-side football and tennis. This will make a great difference in our local community."
Dave Ward, Treasurer at Weston Free Church, said: "The two new community gardens for Weston will give everyone the opportunity to rest awhile, chat to friends, and perhaps make new ones. There will be level access so that everyone can use them. One will be in the grounds of the Moravian Church opposite the roundabout at the bottom of Lansdown Lane, but it will be accessible at all times, even when the church is not open. The other will be between the pavement and the Hub building on Penn Hill Road. Thank you to Bath & North East Somerset Council for providing the funding for these two new community gardens."
The CIL fund is allocated to projects which improve facilities for people in a local area. Find out how the council allocates CIL funding
ENDS