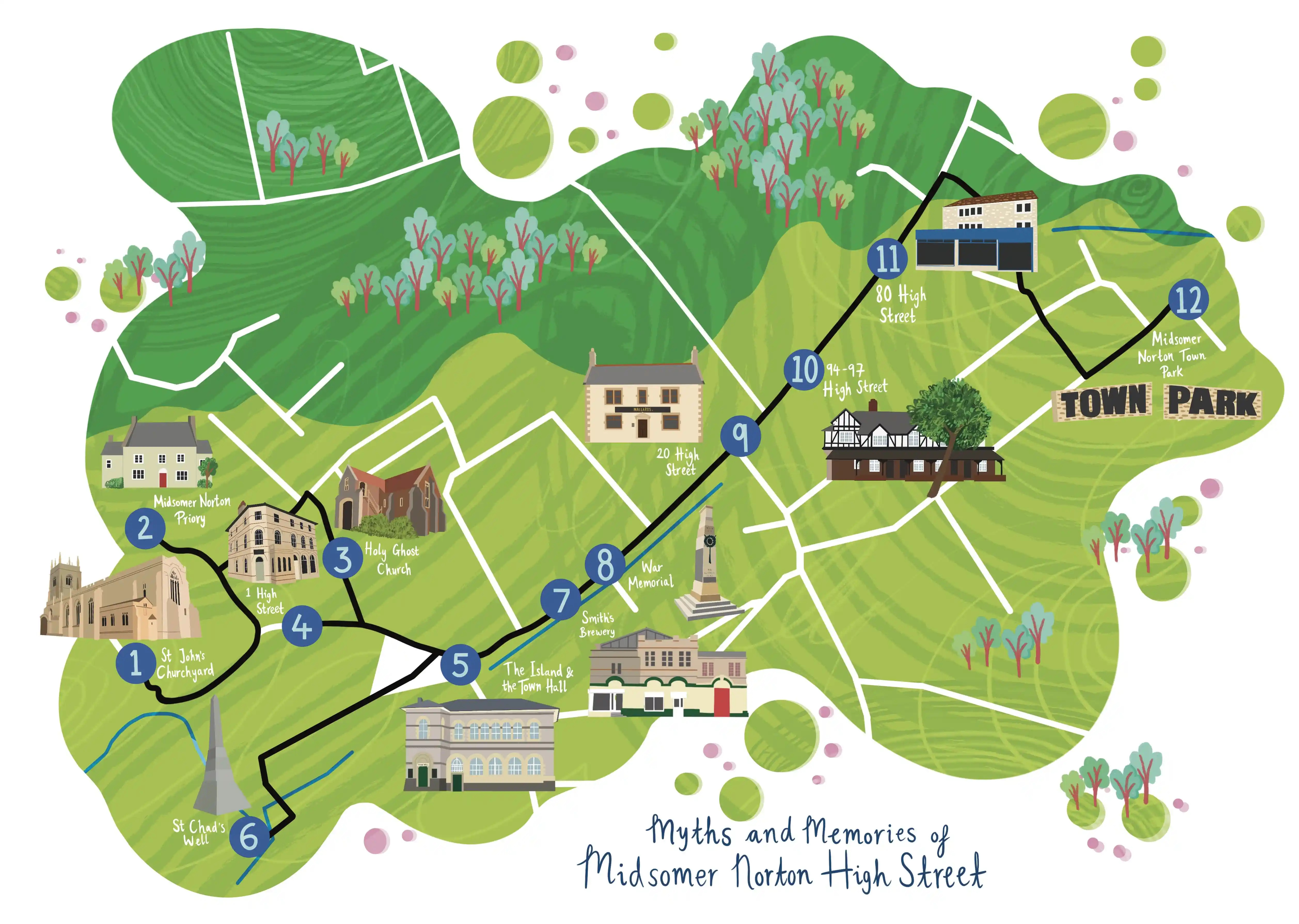 A public art installation featuring restored historic benches and an immersive audio trail are two new projects in Midsomer Norton celebrating the town's heritage.
Both trails have been created by and for the local community to champion local talent and explore what makes Midsomer Norton unique.
The historic benches originally located on the High Street have been restored and transformed into artworks by four different artists, before being installed in community spaces to encourage people to notice and enjoy the local environment as part of a bench trail.
The Myths and Memories of Midsomer Norton audio trail is an immersive self-guided sound walk around 12 landmark locations in the town centre, giving new insights into the history of the High Street from medieval times to the present day.
The projects are part of the Midsomer Norton High Street Cultural Programme which is an element of the wider High Street Heritage Action Zone scheme to improve the public realm and encourage sustainable economic and cultural growth.
Councillor Paul Roper, cabinet member for Economic and Cultural Sustainable Development, said: "These two exciting trails challenge residents and visitors to think differently about our public spaces and encourage us to stop, pause and enjoy what the High Street has to offer. The reuse of the historic benches adds interest and colour to the area and the audio trail adds an extra dimension to a familiar streetscape. I hope these projects will attract more people to explore the town."
The upcycled benches have been restored by Midsomer Norton Men's Shed by local artists working with the community:
Molly Mural ran a drop-in collaging workshop which formed the basis of an abstract townscape design

Sharne Tasney collaborated with St John the Baptist Church, local historian Monica Evans and Doug Benson (husband of late poet Irene Benson) on a design inspired by the story of the Midsomer Norton Knight

Samuel Lindup co-created his design with Connections Art Group, a local group of disabled artists inspired by High Street buildings and animals

Jessica Smith worked with Cam Valley Wildlife Group to identify distinctive wildlife which can be spotted on Midsomer Norton's waterways
Myths and Memories of Midsomer Norton was produced by Somer Valley FM, researched by local historians Nick Waton and Monica Evans with imaginary dialogues created by work experience students from Sound Vision Charity and members of the Merriman Theatre Company. It was supported by actor Emily Thompson and features an illustrated map by artist Lily Fossett. A mobile device and headphones are needed to take part.
Both Cultural Programme projects have been delivered by Midsomer Norton Community Trust and supported by Midsomer Norton Town Council, Bath & North East Somerset Council and Historic England.
ENDS