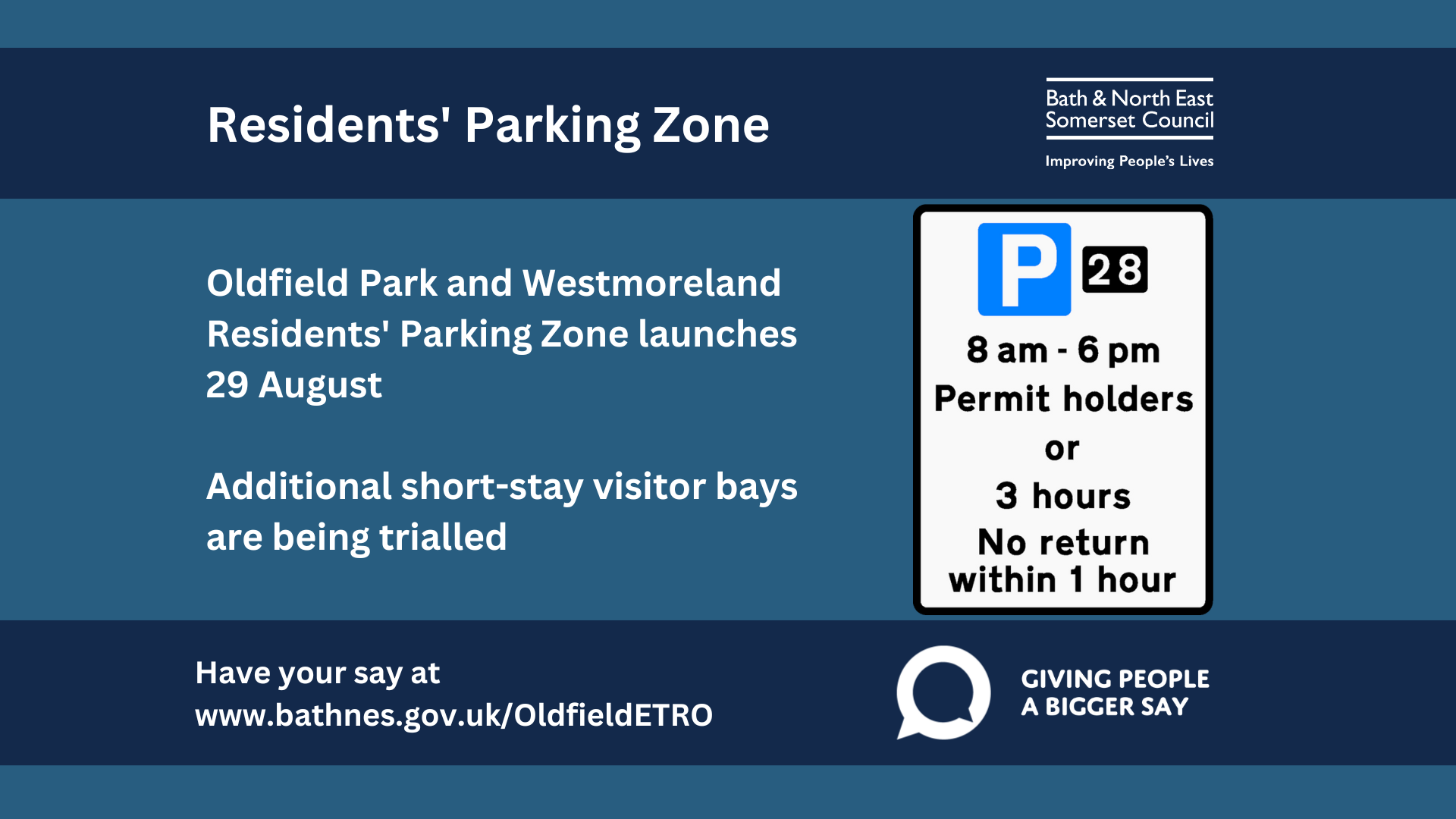 More short-stay visitor parking is to be included in the Residents' Parking Zone (RPZ) in Oldfield Park and Westmoreland in Bath when it launches on 29 August following requests from ward councillors, local businesses and residents.
The changes to the previously published scheme will be trialled for six months with people invited to give feedback before a decision is made on whether to keep them permanently. Bath & North East Somerset Council is writing to residents and community groups to let them know about the alterations ahead of the launch of the RPZ on Tuesday 29 August.
Councillor Manda Rigby, cabinet member for Transport said: "We have worked closely with local people to ensure parking in the area is allocated fairly and proportionately. We need to prioritise residents but also ensure visitors can continue to support local businesses and organisations in the area.
"After the formal consultation closed and the Traffic Regulation Order was sealed, we received requests from the community, including the area's ward councillors, for more provision for visitors.
"We have listened carefully to feedback on the balance of provision and we have decided to introduce more short-stay visitor parking bays through an Experimental Traffic Regulation Order. The changes to this scheme will be made on a trial basis, from launch, and we are really keen to hear people's feedback once the RPZ is up and running".
The trial will introduce around 60 extra short-stay visitor bays near popular amenities, with maximum stays of up to 2 or 3 hours. Many of these bays can also be used by resident permit holders to park for unlimited periods.
A detailed map, further information and a public consultation survey will be available for six months from the launch of the RPZ. Meanwhile, details of the ETRO are published at www.bathnes.gov.uk/oldfieldETRO.
The RPZ will come into force on 29 August and the council is urging residents to check their eligibility and apply for resident parking permits in good time.
The RPZ and single yellow lines will operate between 8am and 6pm, 7 days a week, not including bank holidays. Double yellow and disabled parking bays operate at all times, unless a sign indicates otherwise.
The annual cost of permits can vary depending on a vehicle's emissions but, as a guide, a permit for an average eight-year-old 1.6L petrol or diesel family car would normally cost in the range of £100 to £125 per year. Permits for smaller, newer cars are typically less. Permits are available in durations of 1,3,6 and 12 months.
Permits are limited to two permits per property. Properties with one off-street parking space are limited to one permit, and properties with two off-street spaces are not eligible for permits. Residents can also purchase visitor permits regardless of whether they hold a permit themselves.
Permits are also available for tradespeople and care professionals to service the community and short-stay visitor bays are available near shops and local amenities. Blue badge holders can park in any permit holders bay for as long as they require across Bath and North East Somerset. Dedicated disabled bays are also provided.
Six new zones have already been successfully installed in Bath this year following widespread consultation.  Their aim is to tackle anti-social driving and commuter parking in residential streets and improve people's health and local environment as part of Bath & North East Somerset Council's Liveable Neighbourhoods programme.
The zones also support wider council policies that aim to reduce vehicle emissions and congestion and ensure fair consideration and equitable street space is given to those that would prefer to walk, wheel, scoot or cycle short trips.
You can apply for a permit via MiPermit. More information on eligibility, the cost of permits (according to vehicle emissions) and how to apply is available at www.bathnes.gov.uk/RPZpermits or you can visit any One Stop Shop for further information or support. 
More information on the trial and how to have your say on the introduction of additional short-stay visitor bays is available from www.bathnes.gov.uk/oldfieldETRO. The consultation survey will only be available from 29 August.
If you need further information, or information in another format such as easy-read, Braille, or in another language, email to LNPilots@bathnes.gov.uk or call an advisor on 01225394025.
ENDS