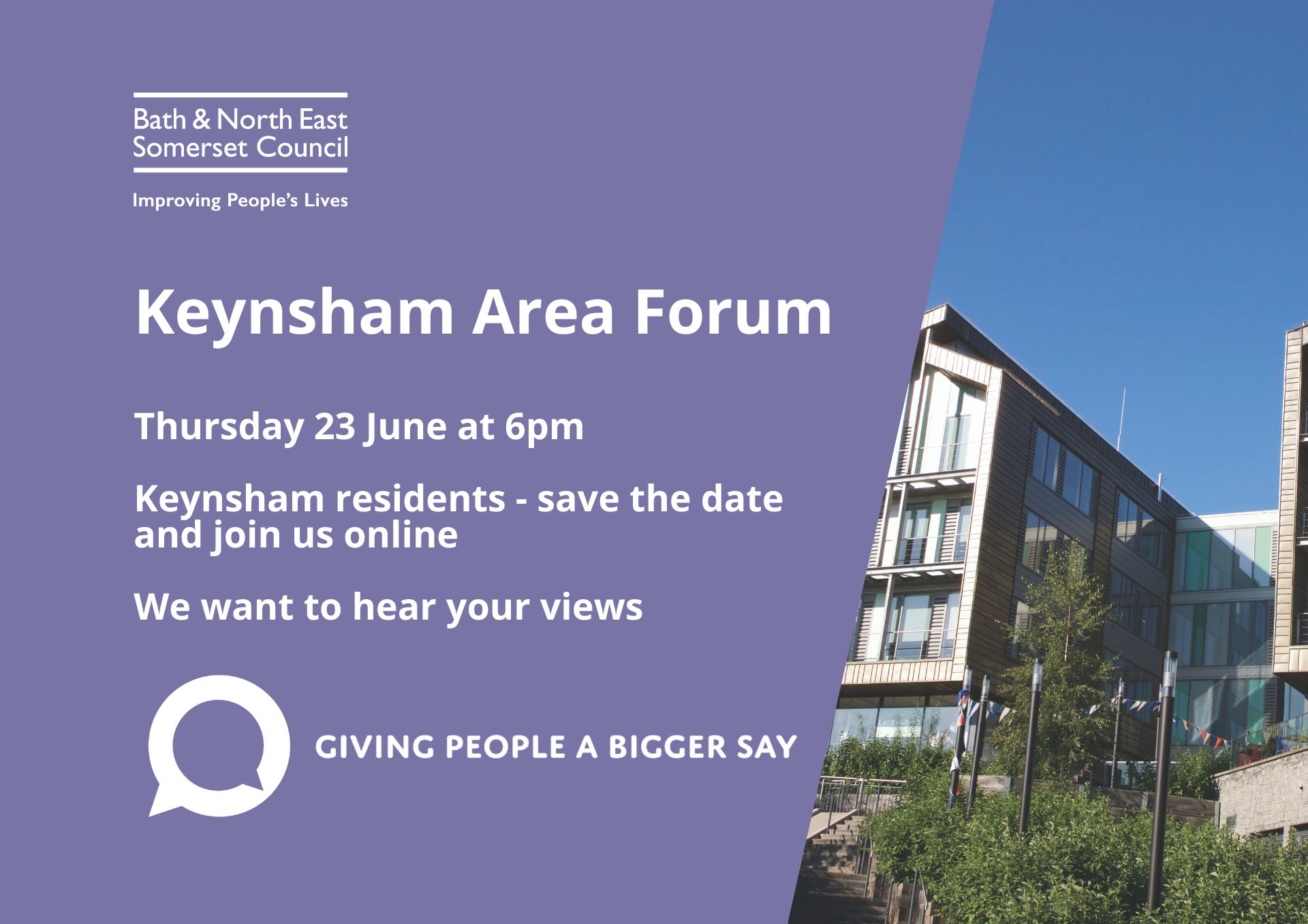 Local groups, organisations and residents in the Keynsham area are invited to the next virtual Keynsham Area Forum on Thursday 23 June at 6pm. 
Pam Turton, the council's head of Transport Strategy, will be speaking in her capacity as Place Team lead for the Keynsham Area.  She will explain how the initiative will help the council better understand and respond to place-based needs through engagement and will be answering resident's questions.
Kate Hobson, project development and delivery manager for the council's Neighbourhood Environment Services, will give us an update on the Keynsham Recycling Hub.  Suzanne Lutton, senior community business partner with the contractor Farrans, will then talk about the company's Social Value and Community Engagement programme and how it can benefit local companies and people looking for work or training.
There will also be updates on the support for guests from Ukraine in the local area, on Keynsham High Street and from the police and Avon Fire and Rescue.
Councillor Alan Hale, Chair of the Keynsham Area Forum said: "I'm look forward to hearing from all the speakers.  Our Forum meetings always provide an opportunity for residents to learn more about initiatives in our local communities and give feedback."
Councillor Kevin Guy, leader of the council, said: "The Area Forums are a part of our commitment to giving people a bigger say, which underpins the way we take decisions.  It's an opportunity for us to meet residents and talk about the local issues that matter most to them."
The Keynsham Area Forum comprises the parished areas of Compton Dando, Corston, Keynsham, Marksbury, Saltford and Whitchurch (joint membership with Chew Valley Area Forum) 
It is one of five Connecting Communities Forums within B&NES. The other Area Forums are Bath Area, Bathavon, Chew Valley and Somer Valley.
 You can find more information and meeting dates on the council website.
 To join the Zoom meeting on 23 June at 6pm, you will need to enter the Meeting ID: 936 5123 3669 and Password: 6f814HF3wX 
You can watch the Area Forum live, or at a later time, on the council's YouTube channel
ENDS