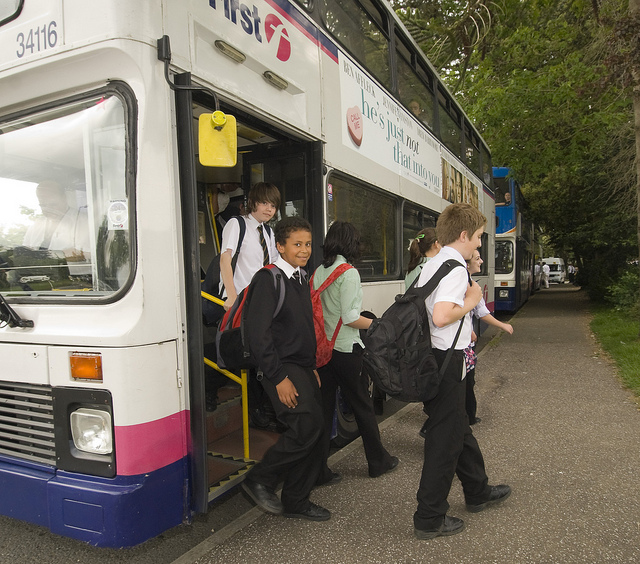 More than 2,500 pupils, who are entitled to free school transport, have been taken safely to and from school this term despite the challenges posed by coronavirus.
Ahead of the new academic year Bath & North East Somerset Council worked with its partners to ensure entitled pupils travel needs were met by its free Home-to-School transport service. As a consequence of detailed planning, it's contracted taxi, minibus and dedicated 'closed-door' coach services have operated daily since the start of term.
With the reduction in capacity on public bus services due to social distancing the region's transport provider, the West of England Combined Authority (WECA), provided extra funding for additional services at peak times on the key routes used by non-entitled pupils. These additional services will now continue to run until the Christmas holidays. 
Councillor Kevin Guy, cabinet member for Children's Services, said: "I'm delighted that the plans we put in place for our entitled pupils over the summer have ensured a safe, reliable service this term.
"While it is the council's responsibility to fund and ensure provision for entitled children, it is not our responsibility to transport non-entitled children to school.  I'm therefore grateful to WECA for increasing passenger capacity by funding additional services on key routes at peak times. This has ensured that the vast majority of pupils have been able to get to and from school.
"However, we have been made aware of some pinch points in the system, particularly to the east and south of Bath and we'll be talking to WECA about some more funding to support services in specific areas.
"I would though still urge parents and carers to consider their child's travel needs carefully and please, if you can, walk or cycle to school."   
Parents, carers and pupils are being thanked for adhering to Covid guidelines when using dedicated school and public transport.  Ahead of the new term please continue to follow all the rules on hand-washing, face coverings and social distancing.