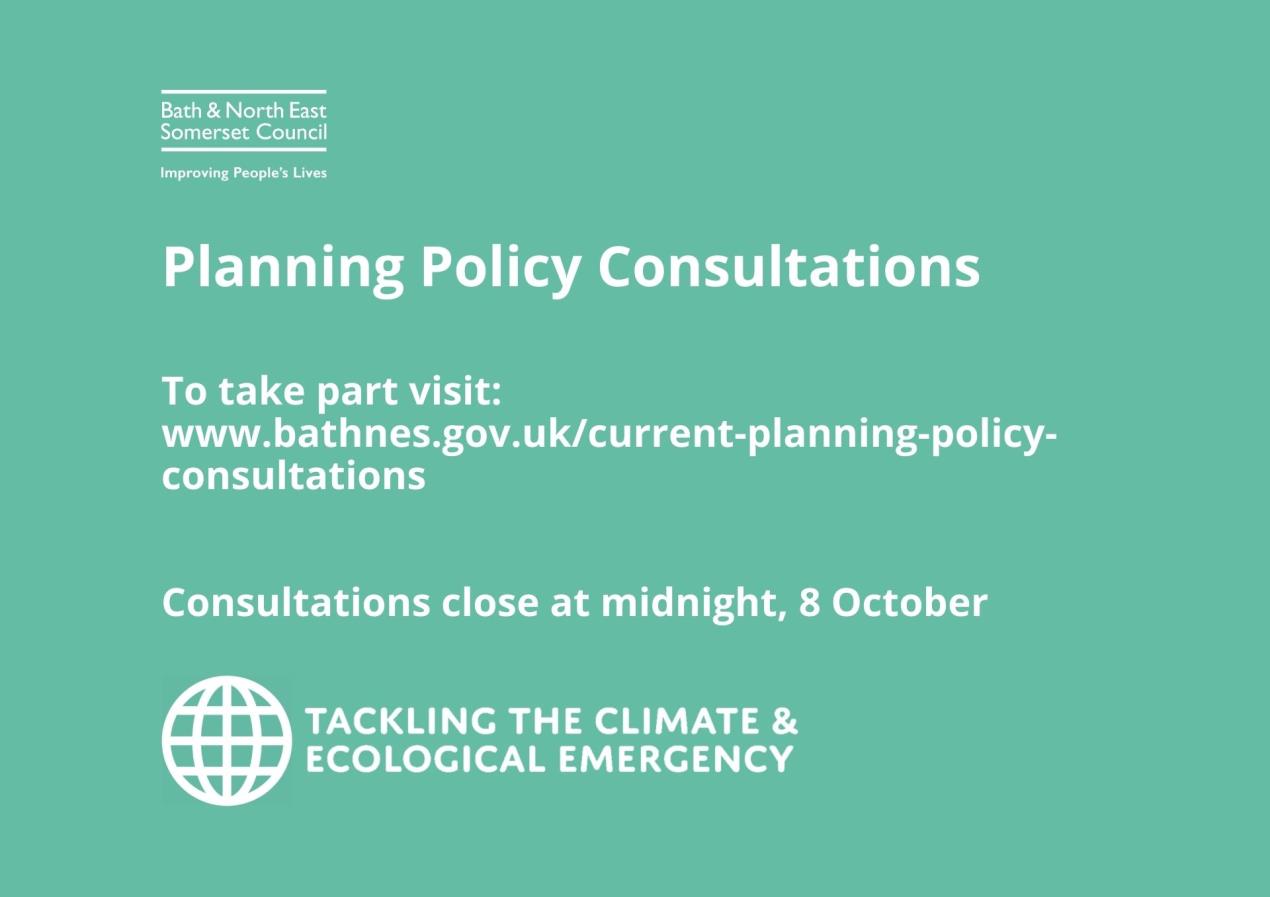 Residents and businesses are being reminded they still have time to give their views on proposed changes to planning polices to help tackle the Climate and Ecological Emergencies in Bath and North East Somerset.
As part of its commitment to giving people a bigger say, Bath & North East Somerset Council is asking for feedback on the proposed Local Plan Partial Update (LPPU) and three draft Supplementary Planning Documents (SPDs) designed to support the council's ongoing work to deliver net carbon zero by 2030.
People have until midnight on Friday 8 October to have their say.
Councillor Tim Ball, cabinet member for Planning and Licencing, said: "Planning policies can make a major contribution to tackling the climate and ecological emergencies by shaping new and existing developments in ways that reduce carbon dioxide emissions, building community resilience to problems such as flood risk, enabling a shift to mass transit to reduce transport emissions, enabling local renewable energy generation, and protecting the natural environment.
"The LPPU updates parts of the council's Core Strategy and Placemaking Plan to address the climate and ecological emergencies and other changes in circumstances, national policy and legislation since it was adopted in 2014, while the SPDs provide supporting guidance for proposed policies within the LPPU.
"We want to know what people think about our proposals and how they will be affected by them, so please get involved and take part in the consultations."
Issues addressed in the LPPU include:
the need to update and replenish the district's housing supply to make sure it can meet the requirement for housing up to 2029
delivering zero carbon development and helping to facilitate local renewable energy generation
transport policies, including reviewing parking standards
houses in multiple occupation (HMOs).
The proposed SPDs include guidance on specific measures to help tackle the climate emergency including:
revised parking standards, ultra-low emissions vehicles, walking and cycling infrastructure design and travel plans for new development
guidance on energy performance requirements for HMOs
guidance for homeowners and occupiers on adapting their homes to reduce energy use.
The consultations, which opened last month, have been supported by a series of webinars which are available to view on the council's YouTube channel.
Councillor Sarah Warren, deputy leader and cabinet member for Climate and Sustainable Travel said: "These proposed changes will play an important role in helping us meet our net zero target. The webinars are really informative, provide clarity on why we're proposing these changes and answer common questions, so I'd encourage people to watch them before submitting their responses."
To take part in the LPPU or SPD consultations visit: www.bathnes.gov.uk/current-planning-policy-consultations
Comments should preferably be submitted using the on-line portal. Users who have difficulty in responding online can request assistance in viewing or responding to the consultations by emailing:  planning_policy@bathnes.gov.uk or calling Council Connect on 01225 394041.
All responses to the consultation on the LPPU will be submitted alongside the plan for examination by a planning inspector, appointed by the Secretary of State.
The consultation on the draft SPDs is in the first phase. The council will consider any issues raised and, where appropriate, revise the SPSs prior to their approval.
ENDS