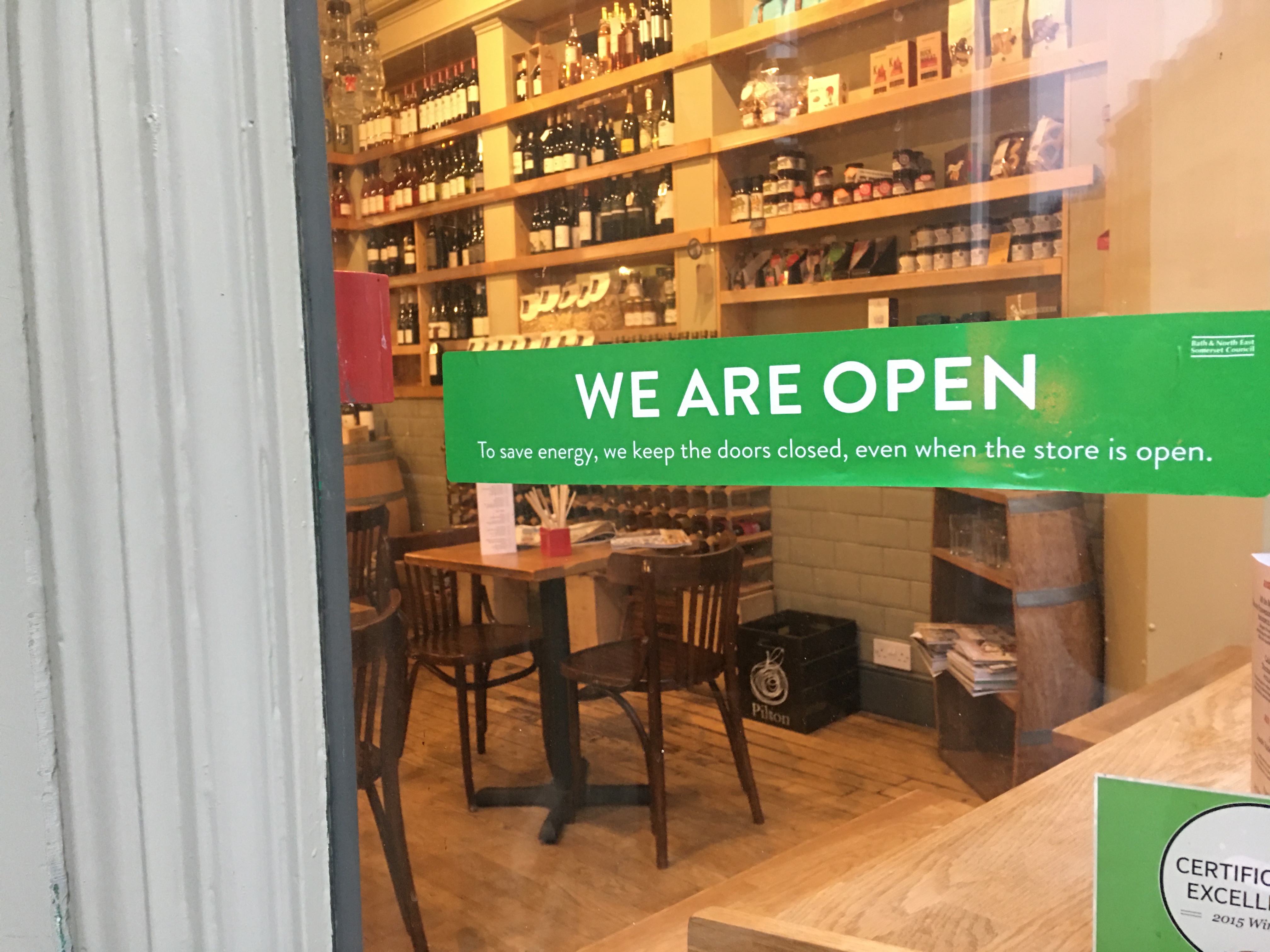 A big thank you has gone out to more than 130 shops and businesses across Bath for backing a simple energy-saving scheme – asking them to shut their doors.
The 'Shut the Door' campaign encourages high street businesses to reduce their carbon footprint and cut their energy bills.
Its aim is to get shops, restaurants and cafés to keep their doors closed during the working day to save energy and is supported by Bath and North East Somerset Council and Bath BID.
Over a four-day period, the Bath BID team visited 210 businesses in central Bath to encourage them to join the campaign. The vast majority took a sticker to place in their windows to advertise that they are still open for customers although their doors are closed.
Raising awareness of 'Shut the Door' will continue in Keynsham, Radstock and remaining areas of Bath over the next couple of weeks with as many businesses being visited as possible.
Councillor Sarah Warren, cabinet member for Climate Emergency, said: "The Shut the Door campaign has had an overwhelmingly positive response so far and I'd like to the thank the shops, cafés and restaurants that have been enthusiastic about the idea. Studies have shown that closing the door doesn't have a detrimental effect on profits and not only saves businesses money on their fuel bills, but also allows them to take real action in helping to tackle the climate emergency. I hope many more businesses across Bath and North East Somerset will adopt a closed-door policy if they haven't done so before now."  
One of the first businesses to back the idea was Eve Beddows, team leader at Tea Too in New Bond Street, who said: "We have our doors closed as much as possible. When we have the heating on we close the door so energy isn't wasted. All businesses across the country need to be on board with this initiative."
Allison Herbert, CEO of Bath BID said: "When visiting premises in Bath, our representative had a lot of people say that they had heard of the scheme before she had barely started to speak. The words, nods of approval and number of people who say they support the idea far outweighs those who do not. It's great to see that our local businesses are switched on to not only reducing their own costs but also their carbon footprint."
Any business that would like to take part and would like a window/door sticker should email info@bathbid.co.uk
ENDS