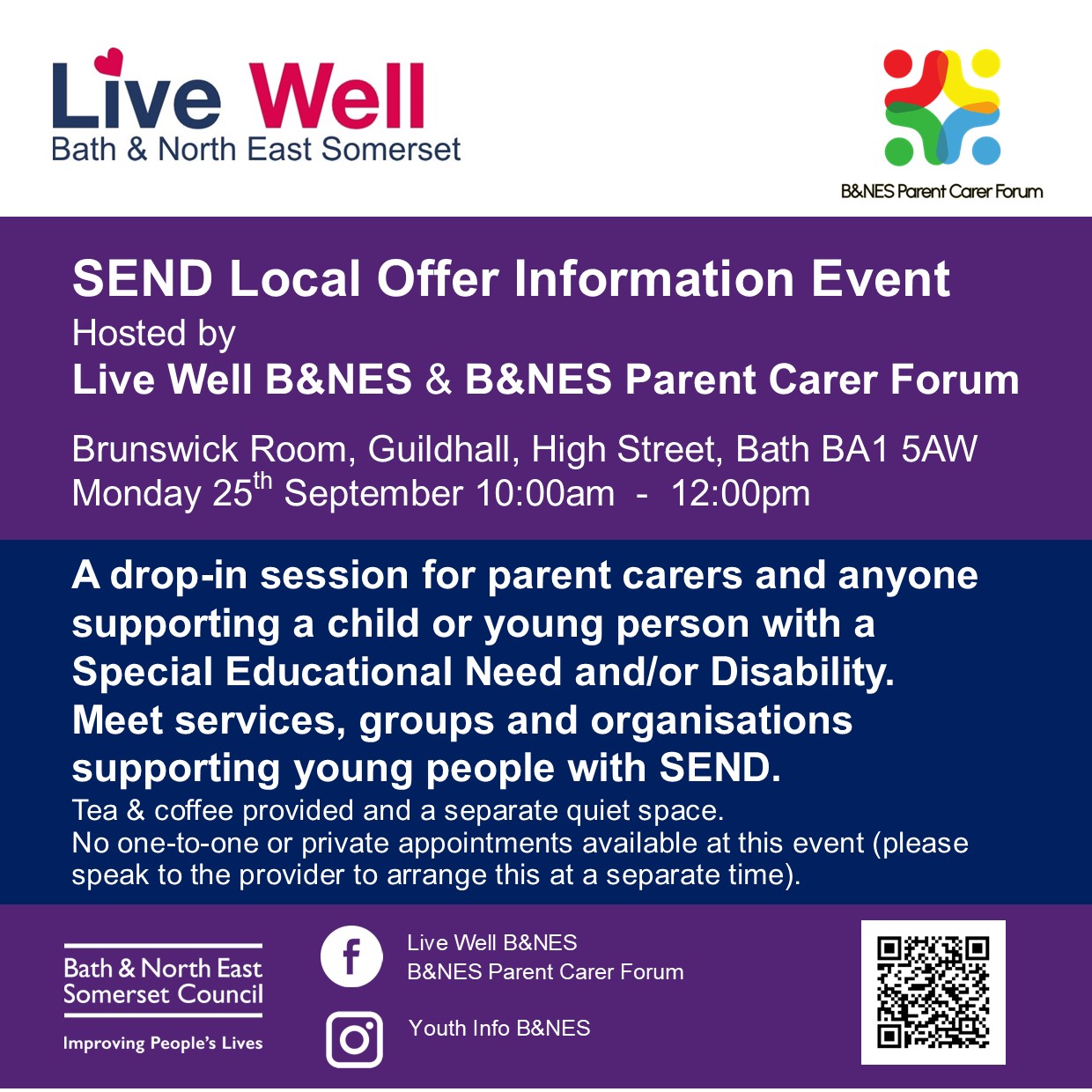 Parent carers of children and young people with special educational needs and/or disability (SEND) are invited to a drop-in event in Bath this month to find out what support is available in the area for their family.
The event is the third in a series being held by Bath & North East Somerset Council and the B&NES Parent Carer Forum and is a chance for families to come and meet local groups, organisations and support services who provide services or support to children and young people with SEND.
It will take place in the Brunswick Room at the Guildhall in Bath from 10am to 12pm on Monday, September 25. Tea and coffee will be provided and a separate quiet space is available.
Seventeen providers and services have signed up to the event and will be able to talk to families about the support they can offer. These include Bright Start Children's Centres, Sendias and Sendias Parent Champions, Children's Learning Disability Service, Educational Psychologists, B&NES Libraries, Carers Centre, and Off The Record.
Also attending will be Parent Carers Forum, Swallow, Bath Rugby Foundation, Nova Sports and Coaching, We Work for Everyone, Butterflies Haven Designability and HealthWatch.
More than 50 parent carers attended the last event in Radstock in June and feedback included that it was "a great initiative where we were made to feel very welcome and not conspicuous because of our young person's needs", and "a great event – lots of useful organisations there, very friendly and welcoming".
Councillor Paul May, cabinet member for Children and Young People, said: "This event pulls together key people who provide support and information to SEND families across Bath and North East Somerset. It's important that people don't feel alone with the challenges they might face and we want them to know where they can go for help. This is a great opportunity to drop in and chat with other families experiencing the same issues, as well as find out more information from the local providers."
Livewell B&NES is the council's information, support and signposting service which provides local information for families with a child or young person with SEND, as well as for all children and families and for adults needing care or support.
ENDS