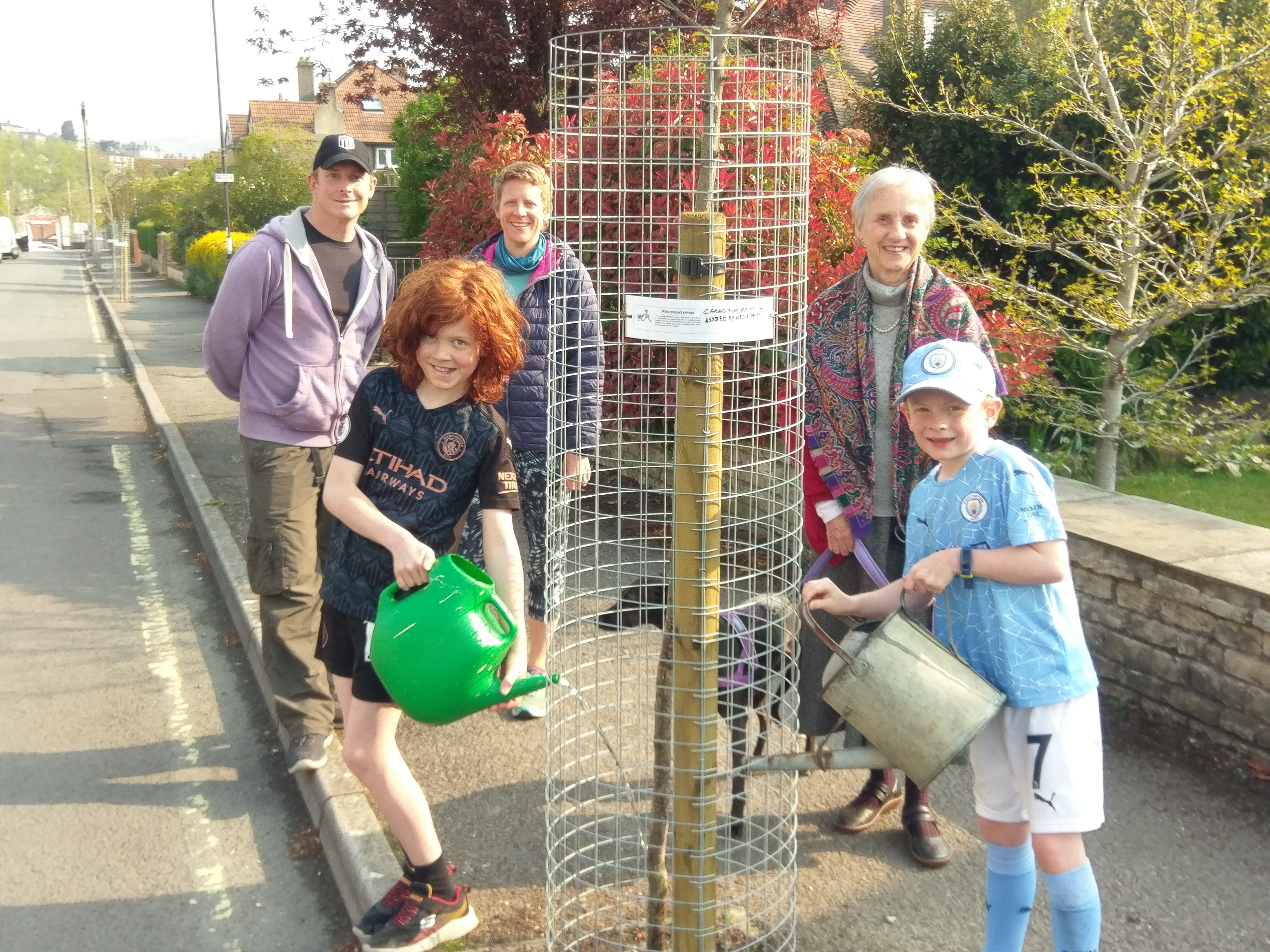 The planting of dozens of new trees on the Bathwick estate earlier this year is helping to foster community spirit.
Bath & North East Somerset Council planted 52 new 'street trees' on the estate after being canvassed by the local Residents Association to replace those previously lost through disease or old age.
The project, which will help to improve city liveability, was funded through S106 developer contributions and topped up with a grant of £500 from Councillor Manda Rigby's Ward Empowerment Fund allocation.
Since the mass planting in February the council has continued to work with the local community, adding informative labels to the trees to help reinforce their many benefits to the community and while doing so asked residents to water them through the summer.
The response was overwhelming, all the trees now have a summer carer whose details have been added to each tree label to show the level of community spirit in support of the trees.
Alasdair Barron, resident, said "We've had huge support from residents, and each tree now has a label supplied by the council with its species written on one side, and a tree 'benefit' message on the other. The main challenge is to get the new trees watered and established this summer, so residents have signed up to do that by writing their name or house number on the label of the tree they are caring for. In some cases, families are watering trees outside the houses of older people who enjoy the contact and the help.
"It's been a fantastic project which is really benefitting our community and I'd urge other Residents Associations and Community Groups to consider developing their own street tree planting projects."
Councillor Dave Wood, cabinet member for Neighbourhood Services said: "This project has evolved far beyond our expectations, residents have led from the start and really taken ownership. Trees are very vulnerable when they've first been planted and are susceptible to dry conditions, so its fantastic that each new tree planted on the Bathwick estate will have someone to care for it and water it until its roots have taken hold.
"I'd like to thank everyone involved in the project, over the years the whole community will benefit from these trees as they absorb carbon, improve air quality, provide valuable habitats for wildlife, reduce storm water run-off and help to improve wellbeing."
As part of its response to tackling the Climate and Ecological Emergency, Bath & North East Somerset Council has said it wants to see 100,000 new trees planted across the district by May 2023.
Despite delays as a result of Covid-19, 15,000 new trees have so far been planted.
ENDS