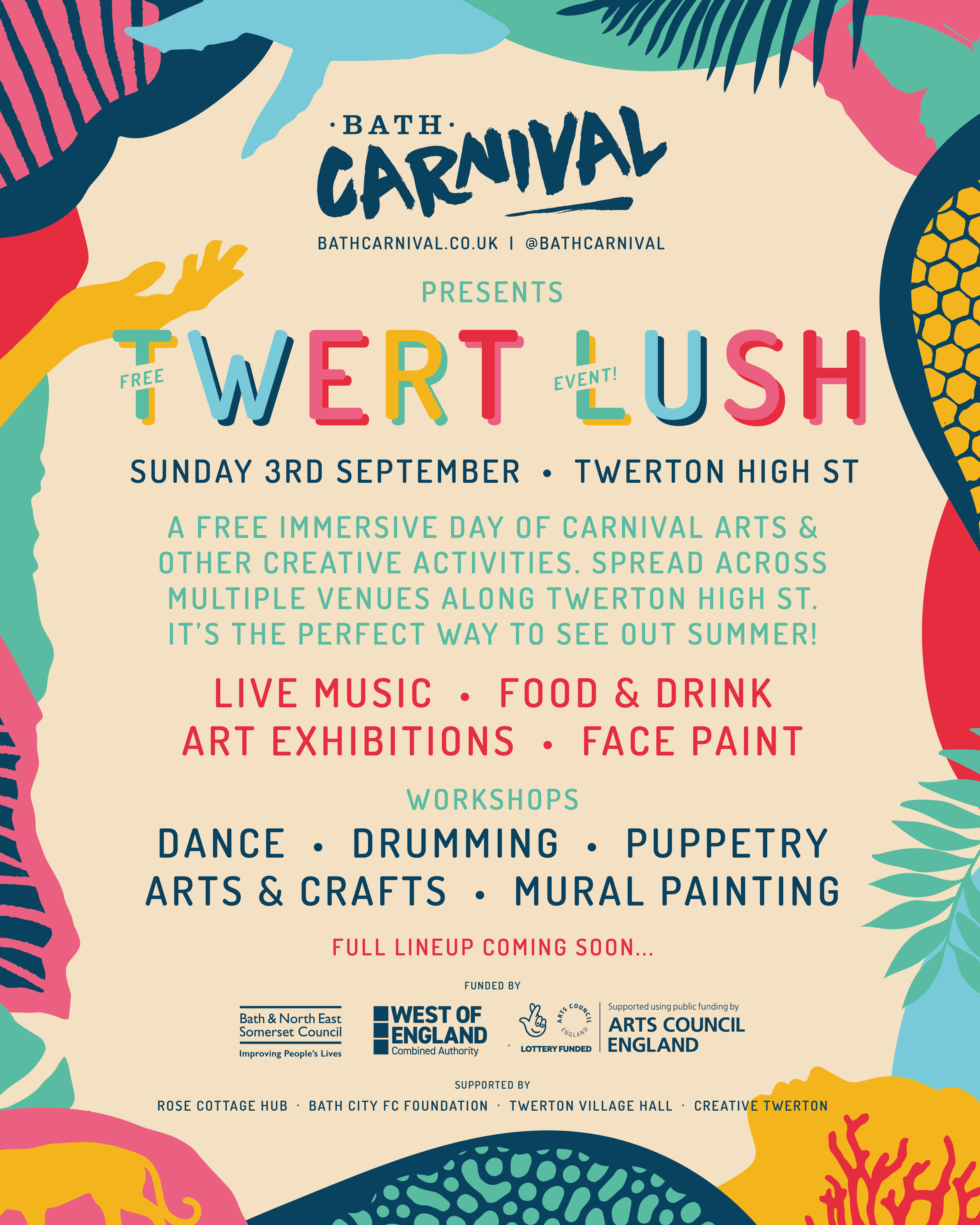 Residents in Bath and North East Somerset are invited to immerse themselves in a free day of carnival arts and creative activities in venues along Twerton High Street next month.
Twert Lush on Sunday, September 3 from 11:00-6:30pm is a day of live music and 'give it a go' workshops, art exhibitions, food and drink and children's activities bringing the fun of Bath Carnival to people who might not be able to travel to the city centre for the main event.
It is part of a Bath & North East Somerset Council-led scheme to improve high streets and community spaces in the area, and funded by the West of England Combined Authority.
The day has something for everyone and is free to attend, with a range of drop-in activities and performances by established local artists.
People can also take part in dance, drumming, juggling and puppetry workshops with a range of talented local creatives, artists and musicians.
There will also be the opportunity to contribute to the creation of a new community mural for Twerton High Street.
The event follows on from the annual Bath Carnival which takes place in July. It has been curated by Bath Carnival and is managed in partnership with the Council.
Councillor Paul Roper, cabinet member for Economic and Cultural Sustainable Development, said: "Twert Lush is a unique event that will bring carnival arts and music activities to Twerton High Street for the first time. It's a great opportunity for the community to get involved , enjoy the music and have a go at some creative activities. Join in with this family day out celebrating our city's rich cultural heritage – it's a perfect way to see out the summer."
Metro Mayor Dan Norris said: "This is a great day out bringing some festival fun to Twerton on what should be a brilliant Sunday of music, food and colour. A big thank you to the brilliant Bath Carnival team for curating this.
"I'm pleased this is all part of a scheme to make Twerton an even better place to live and work, fully funded by a £192,000 cash injection from my Mayoral Combined Authority. As Metro Mayor, I'm absolutely committed to backing projects that bring pride to our area, working with local people in the process."
Stu Matson, Bath Carnival Director, said: "Bath Carnival has worked with many schools and groups in Twerton, but this event will give the wider community a chance to experience the magic of carnival arts right on their doorstep. Twerton continues to play an important role in Bath Carnival; with our artist studio situated on the High Street, and many of the team having lived in the area over the years – including myself. Unsurprisingly we are delighted to host a celebratory event for this part of the city.

"Of course, Twert Lush is also an excellent opportunity for families outside of Twerton to see some of its fantastic local venues, and enjoy a free day of arts and crafts activities, professional workshops and an eclectic line-up of music."
The event is part of the council's Bath Local Centres High Street Improvement Scheme, which aims to support Twerton High Street, Mount Road, Moorland Road and Weston High Street by improving the street environment and reanimating these key community spaces. The Twerton element of the scheme is funded by the West of England Combined Authority's 'Love Our High Streets' fund.
ENDS