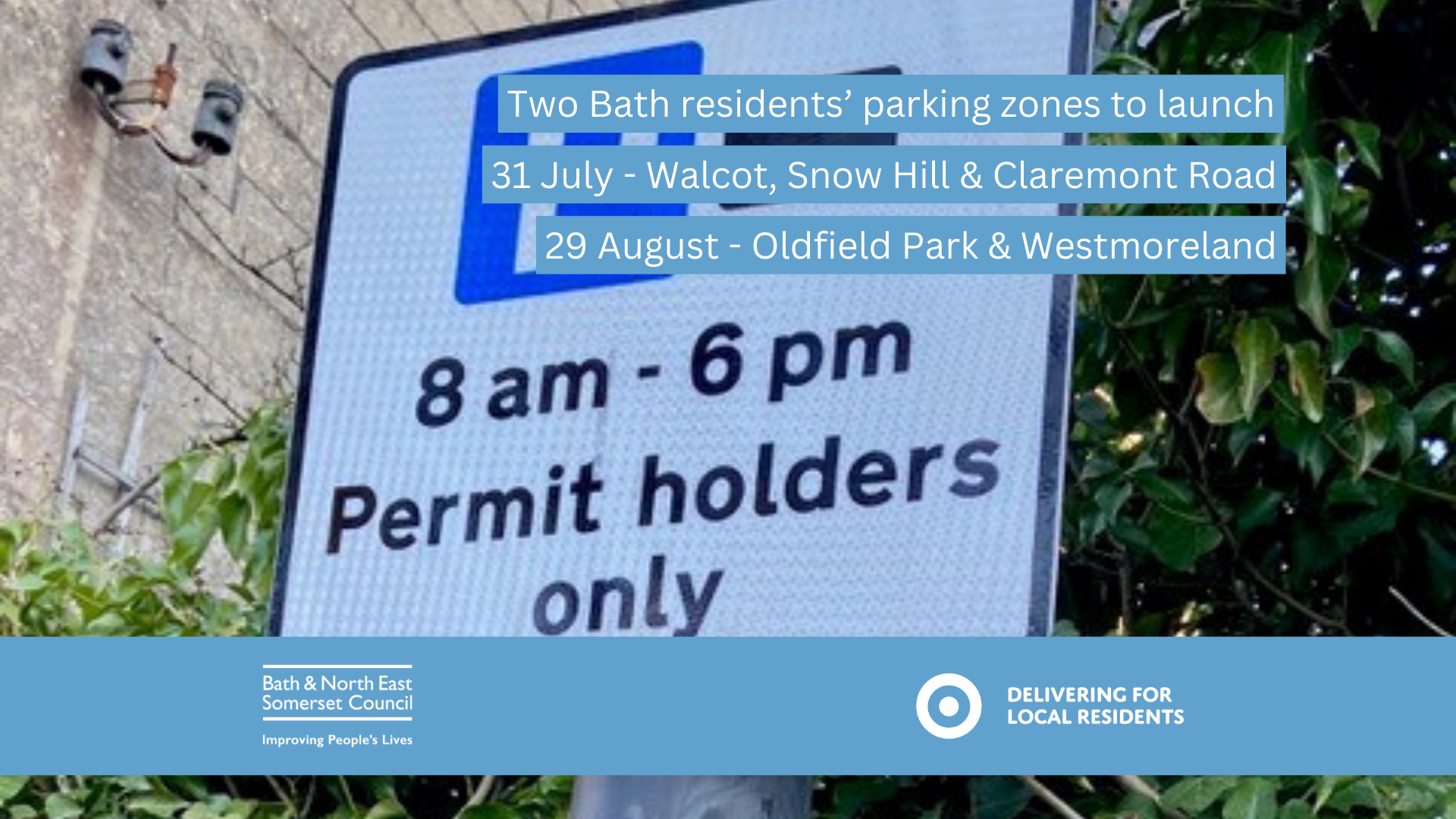 Two residents' parking zones in Bath are set to come into force - Walcot, Snow Hill and Claremont Road at the end of July and Oldfield Park and Westmoreland at the end of August.
Work to install both zones have been under way since June and follows extensive consultation.
From 31 July residents in Walcot, Snow Hill and Claremont Road will need a permit to park in the zone.
The Oldfield Park and Westmoreland zone will start on Tuesday 29 August instead of the estimated start date of 31 July. Restrictions will not be enforced until 29 August despite most of the bays, posts and signs being installed and letters are being sent to residents explaining the scheme.
The aim of the zones is to tackle anti-social driving and commuter parking in residential streets and improve people's health and local environment as part of Bath & North East Somerset Council's Liveable Neighbourhoods programme.
The zones also support wider council policies that aim to reduce vehicle emissions and congestion and ensure fair consideration and equitable street space is given to those that would prefer to walk, wheel, scoot or cycle short trips. This includes the council's response to the climate and ecological emergencies in its Journey to Net Zero plan.
Letters with details about each of the zones and their installation have been posted to all residents and details can be found on the council website here: www.bathnes.gov.uk/LNPRZ
Councillor Manda Rigby, cabinet member for Transport, said: "Residents in Walcot, Snowhill and Claremont Road will have their zone 'switched on' from July 31 and, as with other areas, they should start to see parking improvements in their neighbourhood.
"In Oldfield Park and Westmoreland, the zone will become effective from August 29. This is because of an amendment, which requires an Experimental Traffic Regulation Order, to include more short-stay bays for visitors who are not eligible to purchase a residents' parking permit. We have written to all residents affected and are currently looking at where the short-stay bays should be placed to ensure there is a balance of provision.  
"We have met and are working closely with the community, to ensure that scarce parking space is allocated fairly and proportionately, prioritising those that live here but also ensuring visitors have the allocation they need to continue to support this vibrant area.
"We also want to reassure residents that the zone will be in place before the start of the new academic year, when many students will take up residence. Like other homes, if eligible, permits will be restricted to two per household and this will help to further reduce congestion in the area."  
Five other zones have already been successfully installed and generally welcomed by residents and businesses as the best way to stop commuter parking from blocking parking spaces for the day.
Residents were initially invited to share their views on the proposals during informal public consultations in autumn 2021 and spring 2022. There was further opportunity to comment on plans revised in the light of that feedback received during formal consultations in June 2022 and autumn 2022.
Under the new RPZ policy, the annual permit cost can vary depending on your vehicle's emissions but, as a guide, a permit for an average eight-year-old 1.6L petrol or diesel family car would normally cost in the range of £100 to £125 per year. Permits for smaller, newer cars would typically be less. Residents can also purchase visitor permits regardless of whether they own a permit themselves.
To help manage the costs of permits, and to ensure that money is not wasted when permits are not required, permits can now be purchased in durations of 1, 3, 6 and 12 months.
The proposed RPZs and single yellow lines will operate between 8am to 6pm, 7 days a week, not including bank holidays. Double yellow and disabled parking bays operate at all times, unless a sign indicates otherwise. Blue badge holders can park in any permit holders bay for as long as they require across Bath and North East Somerset.
Permits are limited to two permits per property. Properties with one off-street parking space are limited to one permit, and properties with two off-street spaces are not eligible for permits.
Residents in Oldfield Park and Westmoreland are being advised that if they have already purchased a permit for the expected start date of 31 July, they will not lose any money. Their permits will automatically start from 29 August for the duration purchased (i.e., 1, 3, 6 or 12 months). 
 Application for permits via MiPermit is open. More information on eligibility, the cost of permits (according to vehicle emissions) and how to apply is available at www.bathnes.gov.uk/RPZpermits or visit any One Stop Shop for further information or support. 
Residents seeking further information, or information in another format such as easy-read, Braille, or in another language, can email to LNPilots@bathnes.gov.uk or call an advisor on 01225394025.
ENDs