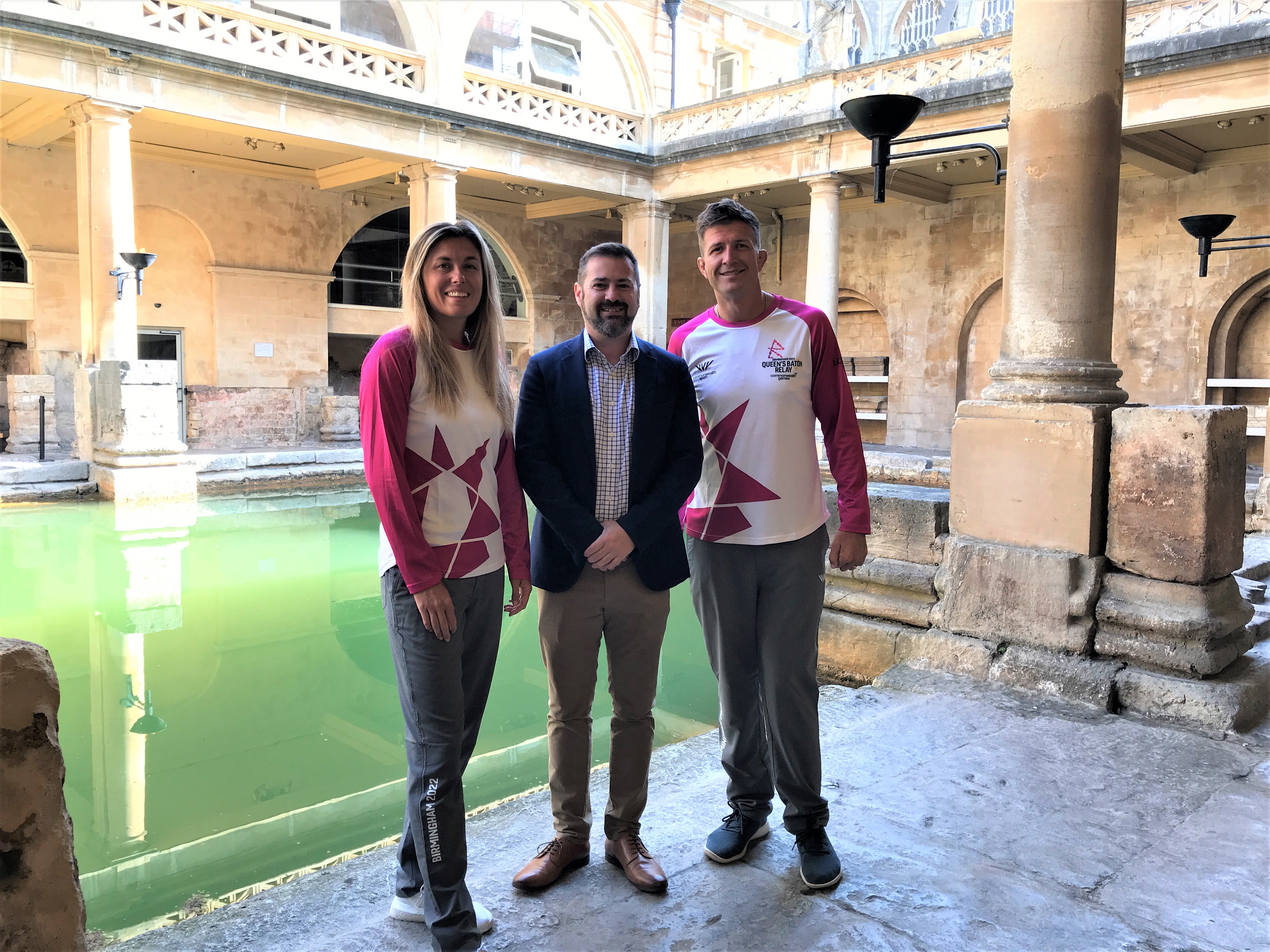 The countdown is on for Bath to welcome the Birmingham 2022 Queen's Baton Relay with only a fortnight to go.
The baton arrives at the Royal Crescent on July 5 and will be carried by nine local Batonbearers before making its way down through the city to the Roman Baths.
Batonbearers Ed and Lois Jackson visited the Roman Baths today (June 21) ahead of the baton's arrival. Ed, a former rugby player, was left quadriplegic after a diving accident and with his wife Lois set up Millimetres 2 Mountains, an initiative taking people with physical and mental ill health on mountain expeditions to aid recovery.
Ed said: "To be able to walk the baton through my hometown is a real privilege and I'm looking forward to seeing everyone out and about on the day so we can say hello."
Councillor Kevin Guy, Leader of Bath & North East Somerset Council, said: "There's only two weeks until the epic journey of the baton arrives in Bath and we're delighted that the city will be part of it. This prestigious and exciting event will showcase everything Bath has to offer. Don't miss out – make sure you're there to watch."
The baton will arrive at the Royal Crescent at around 9.30am on July 5 and then at the Roman Baths at around 10.00am before leaving Bath at the Guildhall. A map of the route can be viewed on the council's dedicated webpage here
Further details of the other Batonbearers who will carry the baton through Bath are expected to be revealed next week.
The relay began on October 7, 2021, with Her Majesty The Queen placing her Message to the Commonwealth into the baton. The baton is now on its 294-day long journey to every corner of the Commonwealth. It is set to travel the length and breadth of England for a total of 29 days, before culminating at the opening ceremony for Birmingham 2022 on 28 July 2022.
Further information on the Queen's Baton Relay can be found at www.birmingham2022.com/qbr
ENDS