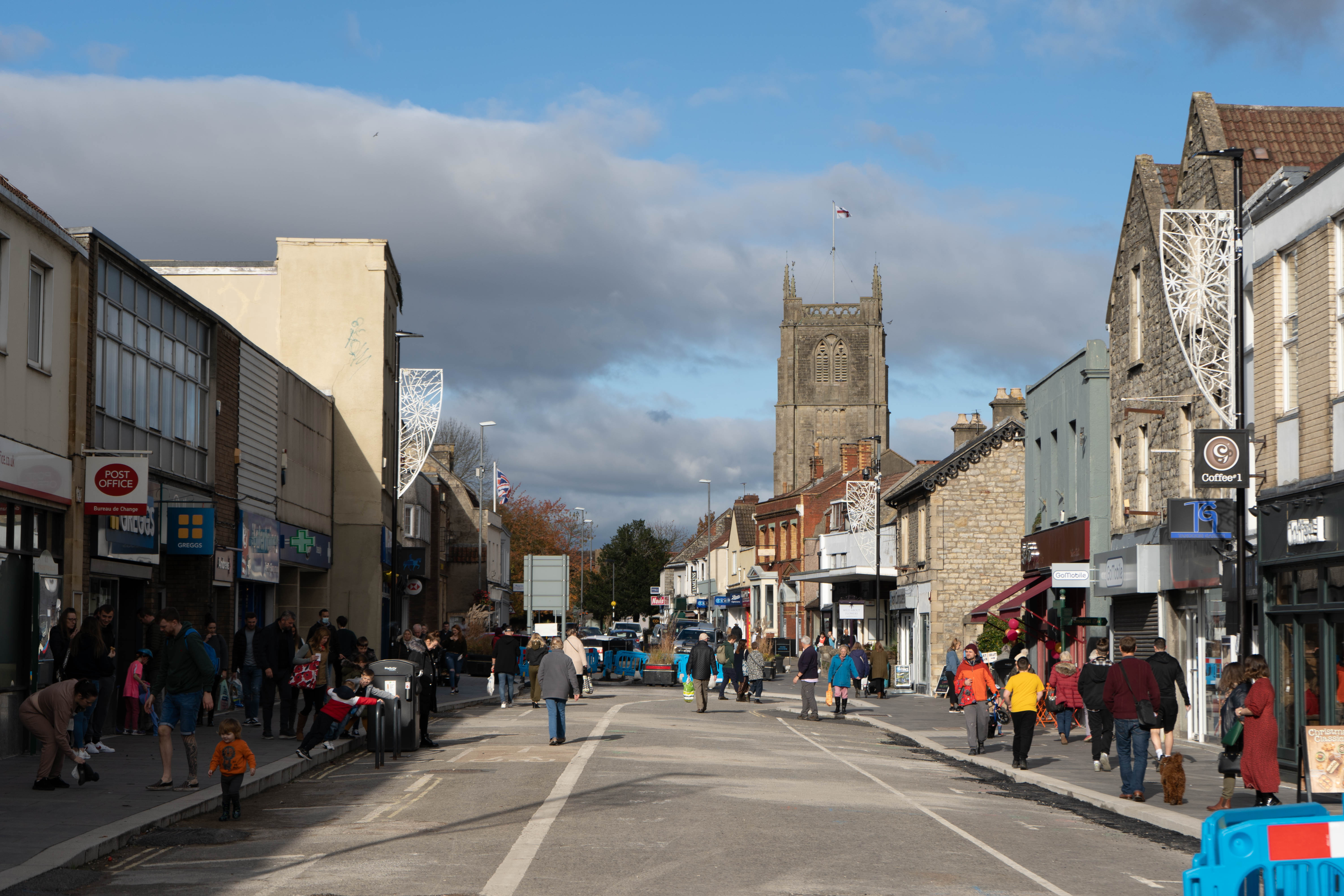 Businesses and landowners in Keynsham's High Street and Temple Street are being invited to submit expressions of interest to improve shopfronts from a £223,000 pot of funding from Keynsham's High Street Heritage Action Zone Shopfront Improvement Project.
An additional call has also gone out to local artists, cultural and community organisations to bid for a share of up to £10,000 to run community-led pop-up events, workshops, performances and temporary installations by April 2022 as part of Keynsham HAZ's local cultural programme and the European Regional Development Fund (ERDF) funded Welcome Back Programme.
Bath & North East Somerset Council is also announcing today that works on phase one of the Keynsham High Street improvement scheme will continue until December 23, before shutting down for the Christmas break.
This change responds to feedback from residents and businesses and will bring the project's completion date forward.
Works focussed around the Bath Hill and Rock Road junctions will restart on January 4.
The council and main contractor Volker have funded a variety of activities through December to encourage people to 'shop local' and increase footfall. This includes free parking on Saturdays in council-owned car parks and street entertainment.
Keynsham Christmas Market will be held on November 26 from 6pm-9pm to coincide with the switch on of the Christmas lights. There will be market stalls, live music, an appearance by Father Christmas and many shops will remain open for late night shopping.
Councillor Kevin Guy, council Leader, said: "The last few years have been a challenging time for local businesses and we remain committed to supporting them. Having taken on board feedback from businesses and residents we have made the decision to continue works until December 23, which will mean the project's completion date can be brought forward.
"In addition to the Phase 1 scheme, the Shopfront Improvement Project is another step forward in enhancing the streetscape in Keynsham Town Centre. It's important that local businesses and property owners help us to shape this scheme by submitting expressions of interest - helping to make Keynsham a more desirable place for people to live, work and play.
"Also, the High Street HAZ local cultural programme will provide a range of vibrant events, helping to breathe new life into the town. We want to know what creative events and activity you would like to see happen in Keynsham. If you are a local artist, cultural or community organisation with a new event idea that could benefit from a small grant, please make an expression of interest to us."
Bids are invited by November 29 from artists and organisations for up to £2,000 per project from the Small Grants Local Cultural Programme by filling in an expression of interest form here. Residents and visitors are invited to have their say on what events they would like to see via a feedback form here.
As part of the HAZ, up to £223,000 has been dedicated to give property owners, leaseholders and tenants the opportunity to bid for a grant to improve the condition of their properties' shopfronts. A minimum of eight shopfronts will be improved as part of the scheme.
Expressions of interest are being invited via this form by November 29 for shopfront improvement projects which must:
have a shopfront on the High Street or Temple Street within Keynsham's High Street Heritage Action Zone Area.

Have a design that will improve the look and feel of the High Street and should enhance the character of Keynsham's conservation area.


 
Keynsham Town Centre conservation area is on Historic England's Heritage at Risk Register. The Shopfront Improvement Project will work to improve this. A conservation area appraisal and shopfront façade study were completed in 2016-17. This has formed the basis of a new Shopfront Improvement Design Guide for Keynsham.
The Keynsham Heritage Action Zone team can be contacted via email at KeynshamHSHAZ@bathnes.gov.uk
For more information on the Keynsham High St works, visit: www.bathnes.gov.uk/keynsham
ENDS