Date published: 2021-08-12
---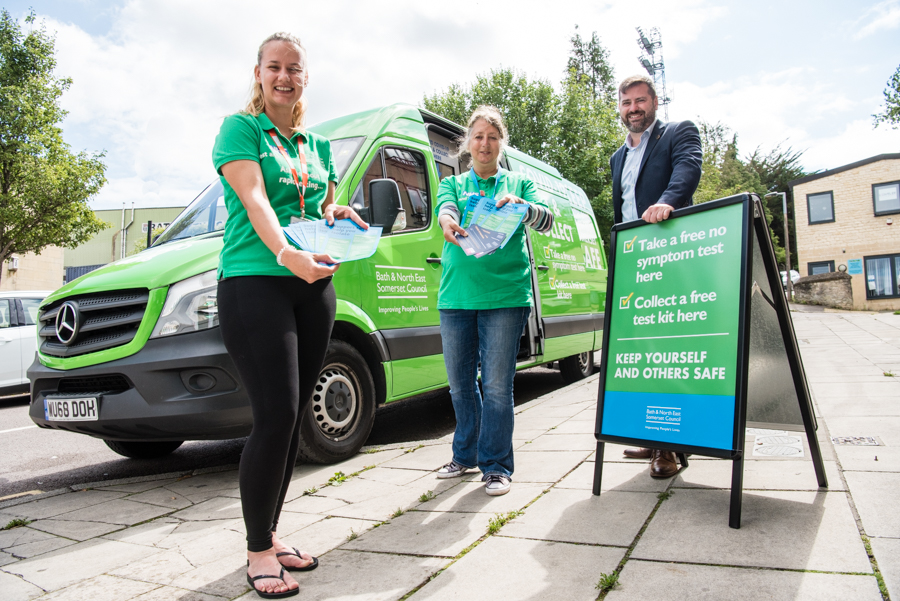 *|MC_PREVIEW_TEXT|*
Coronavirus update 12 August 2021
A message from Kevin Guy, leader of Bath & North East Somerset Council

Hello,

Young people have been hit hard by the pandemic yet many have shown tremendous resilience as highlighted this week with their A-level and GCSE results. Congratulations to all our Bath & North East Somerset students and thanks must also go to all our schools, parents and carers, who have supported students through such challenging times.

As well as getting results, all 16 and 17-year-olds learned this week that they are now eligible for a first dose of Pfizer-BioNTech vaccine. It is vitally important that we all take the vaccine, and I was really pleased to hear that more than 250 people over the last two days got the jab at the vaccination bus which has been parked outside Primark this week.

Walk-in clinics are now available for 16 and 17-year-olds at Bath Racecourse on non-race days – please check for when events are being held. For latest details on local vaccination services visit here.

From Monday 16 August, people who are double jabbed or aged under 18 will no longer be legally required to self-isolate if they are identified as a close contact of a positive COVID-19 case. The change was announced last month, as part of step 4 of the Government's COVID-19 roadmap.

While Covid cases in our area continue to fall the rate of decline is slowing and it's really important that we continue to take care of each other and that means getting tested regularly as well as getting the vaccine.

Our Public Health team launched a bright green mobile testing van this week – you can't miss it. Councillor Dine Romero, cabinet member for Children, Young People, Communities and Culture, and I caught up with mobile testing team when the van stopped in Twerton High Street yesterday.

It will be touring supermarkets, shopping centres, trading estates, day care centres, and various other locations across Bath and North East Somerset for the next two months, offering supervised lateral flow testing for those without symptoms, as well as providing test kits and advice. You can find out where it's going to be ahead of time by visiting the council website.

This week the UN's Intergovernmental Panel on Climate Change report was sobering as it set out the "unequivocal" impact human activity is having on the planet and called for immediate, rapid and large-scale cuts to greenhouse gas pollution.

We are all going to need to make big changes in how we live, work and travel. Businesses too are going to be playing a big role in decarbonising our economy but there are also opportunities to develop green jobs, as we have set out in our Renewal Vision.

Bath & North East Somerset has shown exceptional leadership in declaring climate and ecological emergencies and we are committed to meeting our Zero 2030 commitment.

Next month we are holding our first Climate and Biodiversity Festival, which will run from September 13 to 26 to showcase individuals, organisations and businesses that have taken action to tackle the climate and ecological emergencies – please join us at the festival which will be a blend of on line and in person events.

Have a good weekend.
Vaccine bus locations next week

The vaccine bus will be running walk-in clinics in Paulton, Keynsham and Peasedown St John next week. They will be offering the AstraZeneca vaccine to those who are aged 40 and above, or clinically vulnerable; who do not already have an appointment for a first or second dose booked; and are unable to get to a large vaccination site.

The clinics will be open from 10am-6:30pm:
Monday 16 August: Purnell Sports Club, 6 Bristol Rd, Paulton, Bristol BS39 7NX
Tuesday 17 August: Keynsham Health Centre, St Clements Rd, Keynsham, Bristol BS31 1AF
Wednesday 18 August: Red Post Inn, Bath Road, Peasedown St John, Bath, BA2 8JH
Walk-in clinics are now available for 16 and 17-year-olds at Bath Racecourse on non-race days – please check for when events are being held. Doses of both Pfizer and AstraZeneca are available. And First bus is continuing to offer free journeys for anyone travelling to the Racecourse to get vaccinated.

Visit www.bswccg.nhs.uk for more information on the vaccine rollout, and details of all local health and care services.
Look out for our new mobile testing van

Our bright green mobile testing van will be out across the district offering supervised lateral flow testing for those without symptoms and COVID-19 test kits. Below is where we'll be heading this week. All times 9am-5pm unless stated.
Saturday 14 August: Keynsham, Ashton Way Car Park
Sunday 15 August: Manor Road Sports Field, Wellsway, Keynsham (9am-1pm), The Red Lion Pub, Bishops Sutton (2-5pm)
Monday 16 August: Morrison's, London Rd, Bath
Tuesday 17 August: Keynsham Health Centre, St Clements Rd
Wednesday 18 August: Beacon Hall, Peasedown St John
Thursday 19 August: Bath City Farm (9-11am), Pennyquick Park, Bath (12-3pm), Twerton High Street (near the zebra crossing) (3.30-5pm)
Friday 20 August: Mulberry Way, Mulberry park, Combe Down, Bath (9am-1pm), Sladebrook Church, Englishcombe Lane, Bath (2-5pm)
Saturday 21 August: Morrison's, London Rd, Bath
Sunday 22 August: Royal Victoria Park, Bath

You can find out full details about where it's going and when ahead of time by visiting the council website. No need to book – just turn up and have a supervised test or collect LFTs to take home. Trained outreach workers will be aboard the van, so people can also ask any questions about testing, support to self-isolate, vaccination or other COVID-19 queries.

You can also pick up test kits from our libraries in: Timsbury, Radstock, Bishop Sutton, Weston, Midsomer Norton, Keynsham and also Bath One Stop Shop.
New staff risk assessment tool

The council has developed a new COVID-19 staff risk assessment tool intended as a guide for employers to use to assess any staff members' level of risk to developing serious illness following an infection with COVID-19.

Produced using national government guidance and information provided by the National Health Service, the tool offers actions that employers and staff can take to reduce this risk to as low as is reasonably practicable.

You can access the toolkit here, under 'COVID-19 staff risk assessment tool'.
What is the current guidance about Covid-19?

Despite case numbers decreasing, coronavirus remains a serious health risk. It's important that we all stay cautious and help protect yourself and others. Check the latest government guidance here.

Let's look after each other. Covid-19 hasn't gone away.
Students recognised for resilience during pandemic

Students across Bath and North East Somerset whose studies were interrupted by the coronavirus pandemic were this week congratulated for their resilience.
Do you provide a service, run a group or support young people in B&NES?

A brand new web-based resource, Live Well B&NES, launches later this month and you can be a part of it. If you work with children and young people, including children with additional needs, you can register your service, group or organisation free of charge. It'll take less than five minutes to do so and you'll reach lots of families in B&NES.

Live Well B&NES also provides information, signposting and support to adults needing care or support to live independently, so if you run a group, activity or provides services to adults, get registered and ensure our residents know about what you offer.

For further information, please contact the Livewell B&NES team.
Bigger, Better eBook & eAudioBook collection

From Monday 16 August you will be able to borrow eBooks and eAudiobooks for free, via our bigger and better BorrowBox service. BorrowBox replaces the Cloud Library service which will no longer be available from 16 August.

Having BorrowBox on your phone, iPad, or home computer, means the doors to your local library never close. BorrowBox has an extensive range of titles, so you should find something fantastic to borrow. You can install the BorrowBox app on all your mobile devices for free.

Find out more by visiting.
Latest Government guidance
Booking and staying in a quarantine hotel if you've been in a red list country

How to book a quarantine hotel and coronavirus (COVID-19) tests if you've been in a red list country in the 10 days before you arrive in England.
Future Bright

Future Bright offers free careers coaching, training and support to help residents develop the skills and confidence needed to take the next step, with careers coaches helping you develop a personalised action plan and make it a reality. You can access the service if you are:
aged 18 and over
in paid work (this includes zero hours and self-employed) and are receiving benefits or tax credits
or they are earning less than £9.50 an hour
live in Bath & North East Somerset, South Gloucestershire or Bristol
To find out more and get in touch: www.futurebright.org.uk or call 01225 395555 for a chat with a member of the team.
Live Well B&NES adults

If you need mental health and wellbeing support go to Every Mind Matters and there's also information on these pages:

Bathnes 1BD provides information, activities and support for families and children, including mental health and emotional wellbeing. We also have a similar page for adults needing support or care, on Live Well adults.

You can call:
Avon and Wiltshire Mental Health Partnership Trust 0300 303 1320
Community Wellbeing Hub 0300 247 0050
Bath Mind Breathing Space 01225 983130 breathingspace@bathmind.org.uk
Do you look after someone else?

If you support someone who has a disability, illness, mental health condition, addiction or who needs extra help as they grow older, Bath and North East Somerset Carers' Centre is here for you.

Their friendly team will listen to any concerns you have, offer practical advice and access to free wellbeing activities to ensure you're happy and healthy in your caring role. Contact our freephone support line: 0800 038 8885 or email us. We're available 8:15am-12pm, every weekday.
Support available from the Community Wellbeing Hub

Anybody who is a resident of Bath and North East Somerset can benefit from support from the Community Wellbeing Hub, including those people who are isolating due to testing positive for Covid-19 or being in contact with someone who has Covid-19.

Originally a collaboration between Bath & North East Somerset Council; Virgin Care; the 3SG; Bath and North East Somerset, Swindon and Wiltshire Clinical Commissioning Group; and other third sector organisation representatives, the team can offer a range of support services such as mental health, returning home from hospital, income, housing and benefits advice, emergency food, as well as lifestyle services for help with stopping smoking, getting active or losing weight.

Residents who want to get back to work or change career can now get tailored advice on training and upskilling from a new Employment and Skills Pod. The Pod has been set up by the council and its partners to help people identify the type of job they could do, refer them to training opportunities and gain work experience.

To contact the Hub:
Phone: 0300 247 0050.
Email: CWHBanes@virgincare.co.uk
Website: http://communitywellbeinghub.co.uk
Text: 07870 868368
Opening hours: Monday–Friday, 9am until 5pm

If you need to contact the council about its services please ring Council Connect on 01225 394041 or email Council_connect@bathnes.gov.uk
Domestic abuse

Southside provides help to people who live in Bath & North East Somerset who are at risk of domestic violence and abuse. The working hours are 9-5pm Monday-Thursday, and 9-4pm Fridays. Local support services can be found here.
Sight loss support

Sight Support West of England provides emotional and practical support to help people adjust to living with sight loss. Since lockdown this has been either online or over the phone. Now following careful planning, some covid-secure face-to-face support sessions are resuming on an appointment only basis.

Your Community Sight Loss Adviser will be available at Manvers Street Baptist Church, Bath on the first Wednesday each month and at Midsomer Norton Town Hall on the 4th Thursday each month.

To find out more, or make an appointment please call 0117 3224885 or email For more information on the full range of services visit www.sightsupportwest.org.uk

For more useful information visit the RNIB website: www.rnib.org.uk/
Tune in

Local radio is a great way of keeping up to date with essential information, if you don't already you should tune into BBC Radio Bristol, BBC Radio Somerset or BBC Radio Wiltshire.
Somer Valley FM covers Midsomer Norton, Radstock, Westfield and surrounding villages including Farrington, Paulton, Peasedown, Coleford and Stratton.

Broadcast online and on 97.5fm you can contact at studio@somervalleyfm.co.uk or call 01761 411 755
Bath Radio is a community radio station which has been operating as a hospital radio station for the past 50 years. It now broadcasts to the wider Bath community. Listen online.
Radio Bath provides local news and information, promotes the city and supports its businesses, charities and community organisations.
Keynsham's KTCRfm 105.8FM is now broadcasting 24/7.

KTCRfm covers Keynsham, Saltford, Hanham, Bitton, Warmley, Clutton, Timsbury, the Chew Valley and as far south as Temple Cloud. East to the eastern edge of Bath. North across South Gloucestershire to the M4 corridor and west into many parts of Bristol.
BA1 Radio have been established for a year in Bath and operate from a studio in Southside Youth Hub, broadcasting twelve hours of shows every weekday, focusing on Bath and the local community, including hourly news reports.
website: www.BA1Radio.org
call: 01225 941 080