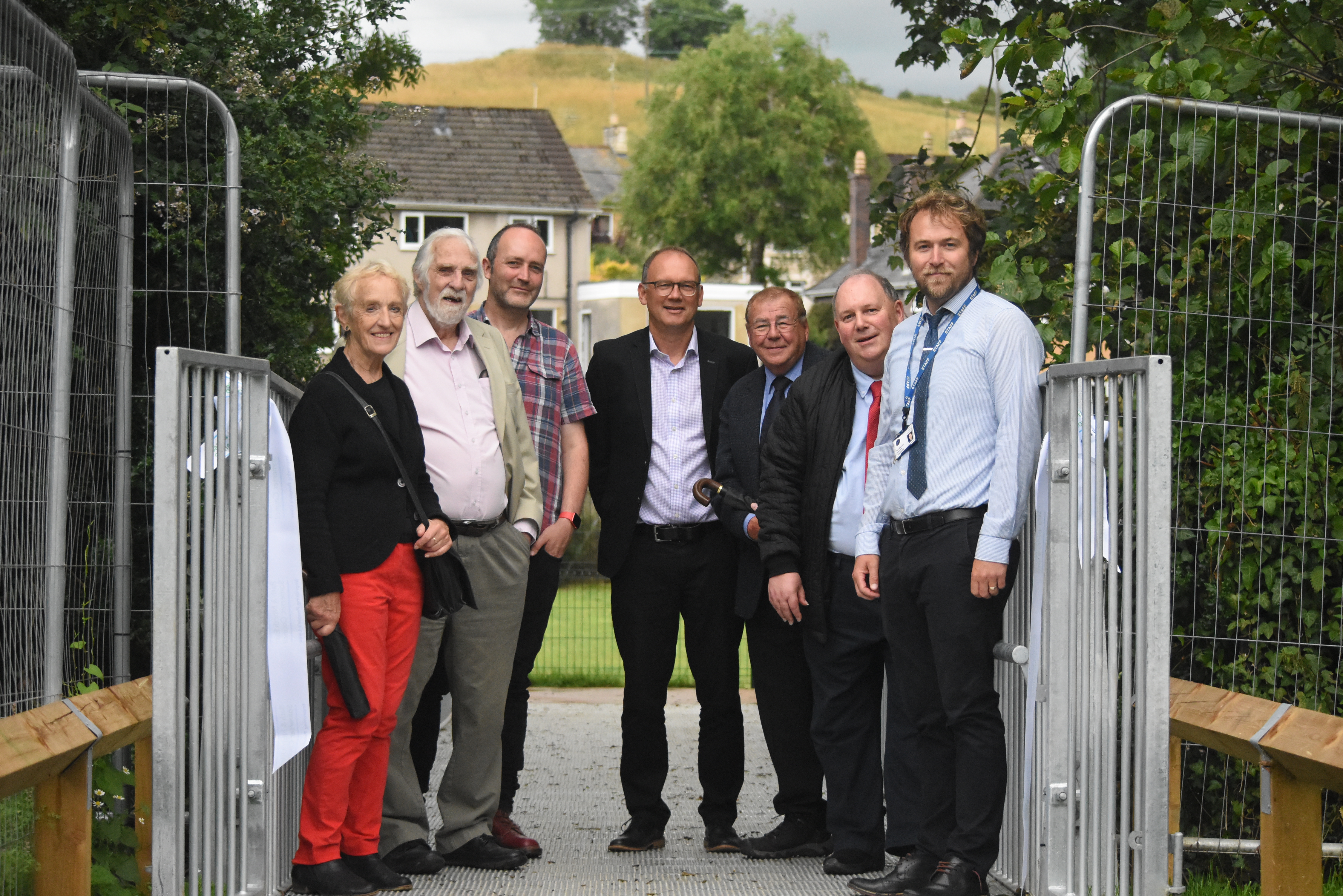 Children and families travelling on foot between St Nicholas Church School and the Heritage Park housing development in Radstock can now enjoy a more convenient way to do the school run thanks to the installation of a new footbridge.
The bridge installed over the river by Bath & North East Somerset Council was officially opened today (July 13) and is part of the regeneration of the former railway land carried out by Norton Radstock Regeneration Company (NRR).
The bridge was funded by a section 106 developer contribution and delivered by the council as part of the Linden Homes Heritage Park housing development.
The school now owns and maintains the bridge which provides another entrance, enables residents to walk safely to and from the site and helps reduce unnecessary car journeys. The bridge will be open at school drop-off and pick-up times only for pupils and their families travelling to and from school.
Councillor Paul Roper, cabinet member for Economic & Cultural Sustainable Development, said: "This scheme has been more than a decade in the making and we would like to thank NRR for the commitment of its board members and staff to making it a reality. We are delighted to have been able to hand the completed bridge into St Nicholas Church School's care and we hope it will make travel to and from school easier for families from now on."
Joe Beament, Executive Headteacher at St Nicholas Church School, said: "'It is great to take ownership of the bridge that allows easier and safer access directly onto our beautiful school grounds. There's also been fun learning activities created for the children – they have seen the crane lower the bridge into place and we have been able to explore how the construction respects the river and nature as well as creating new access onto site. Sustainable and safe travel to our school is really important to us and to The Bath and Wells Trust who are always exploring ways to engage with local communities and develop safe and sustainable ways to support families with the school run. Our new bridge at St Nicholas is great example of this."
The council is also working with Radstock Town Council to regenerate the town centre after securing funding from the West of England Combined Authority's Regeneration Enabling Fund. The Radstock Regeneration Action Plan will identify opportunities for improvements to the area to revitalise the town centre and bring vacant shops back into use.
Councillor Chris Dando, Radstock Town Council, said: ""Radstock Town Council is pleased to have been able to assist in the provision of this footbridge, which will provide a safe route for parents and children to St Nicholas Primary School."
ENDS
Photo L-R: Cate Le Grice-Mac, Norton Radstock Regeneration; Cllr Bruce Shearn, Radstock Town Council; Cllr Dominic Tristram, Radstock Town Council; Cllr Paul Roper, Cabinet Member for Economic and Cultural Sustainable Development; Cllr Paul May, Cabinet Member for Children's Services; Cllr Chris Dando, Radstock Town Council; Joe Beament, Executive Headteacher at St Nicholas Church School. Credit: Radstock Town Council.