Date published: 2021-09-09
---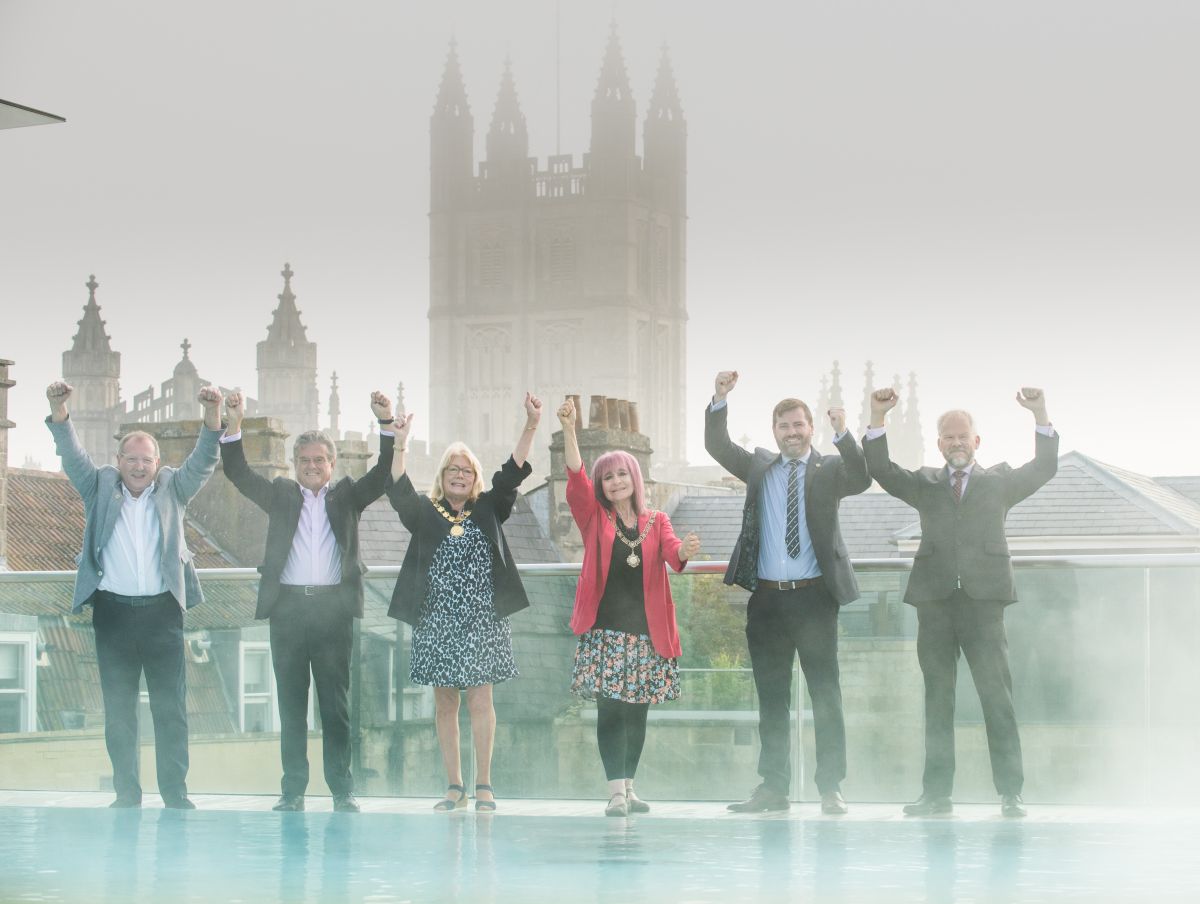 *|MC_PREVIEW_TEXT|*
Coronavirus update 9 September 2021
A message from Cllr Kevin Guy, Leader of Bath & North East Somerset Council

This evening our cabinet meets and one of the reports we are considering is the council's mid-term financial strategy which sets out the financial direction for the council and the challenges it faces over the next five years.

We know the after-effects of the Covid pandemic will affect the council's finances for many years to come. This is in addition to the recurrent pressures we face from social care. Social care places a huge strain on our budgets and we will be looking very carefully at the detail of this week's Government's announcement to assess the impact on services.

One of the biggest challenges facing social care nationally is recruitment and this is no different in Bath and North East Somerset. Over the summer we launched our Proud to Care campaign and are holding a Proud to Care recruitment fair on Tuesday September 21. More than 20 employers have signed up to attend alongside jobs and training agencies.

This week, I had the privilege to attend an event to celebrate Bath's second UNESCO World Heritage status marking it as part of the Great Spa Towns of Europe. It was really good to meet, in person, all those who were instrumental in helping achieve this prestigious award. The listing is a great boost as the city recovers from the economic impact of the pandemic.

As a veteran of the Royal Navy, I was also delighted this week to meet, again in person, members of the Bath Submariners Association. We talked about veterans' issues such as homelessness, the conflict in Afghanistan and the council's proactive approach to supporting as many Afghan refugees as possible.

On Monday, we launch our first Climate and Bioversity Festival which is a combination of online and face-to-face events over two weeks. It gives us all a chance to learn from and inspire each other on ways to reduce carbon emissions and restore nature. Please look at the programme and find time to get involved and step up to the challenge.

As we all get out and about more please remember we still have significant Covid numbers and we need to continue protecting ourselves and others to keep each other safe.

Have a good weekend.
A message from Becky Reynolds, Director of Public Health at Bath & North East Somerset Council

Schools have worked hard to welcome all pupils back to school this week amid changes in rules on safety measures.

The main changes are that bubbles and face coverings are no longer required (although face coverings are still recommended for over 11s on public and school transport). In addition, close contacts of cases who are under 18 years and 6 months will no longer need to self-isolate – meaning that contacts can continue their education in schools if they have no symptoms.

Although most safety measures have been relaxed, schools will continue with regular handwashing, cleaning regimes, and keeping spaces well ventilated. To limit infection, all secondary school pupils have been asked to take two lateral-flow tests at school just before term started.

There are likely to be contrasting emotions between parents as their children go back to school. Most will be pleased that several of the restrictions have been lifted and will want their children to have a more normal experience and spend less time learning from home. Others will be anxious about the fewer safety measures in place, especially if their children have underlying health conditions that put them at greater risk from coronavirus.

It's likely that there will be some increase in cases in schools over the coming weeks. Any increase could just reflect higher rates in the wider community, or transmission within schools. Should an increase happen, it's useful to remember three things:
For most children and young people, coronavirus infection has no or very mild symptoms. Of those who develop more severe illness which needs hospital treatment, most have underlying health conditions. To provide further protection, the group aged 12-15 recommended get the Covid-19 vaccine has been expanded. We are waiting to hear whether the Chief Medical Officers will recommend the vaccine to all 12-15 year olds.
Schools will be alert and ready to reintroduce social distancing and other measures to reduce the risk of spread of the virus if that's needed. They are very experienced in this now and know that support is available to them.
There are higher levels of protection in the wider community as by mid-September all adults, including school staff, will have had the opportunity to be double-jabbed.
Check out our mobile testing van

Remember to keep an eye out for our mobile testing van and drop in if it's in your area to pick up your test kits.

The van's locations are published on our website you don't need an appointment – just turn up and have a supervised test or collect LFTs to take home. Trained outreach workers will be aboard the van, so people can also ask any questions about testing, support to self-isolate, vaccination or other COVID-19 queries.

You can also pick up test kits from our libraries in: Timsbury, Radstock, Bishop Sutton, Weston, Midsomer Norton, Keynsham and also Bath One Stop Shop.
Celebrating second UNESCO World Heritage listing

Bath's second UNESCO World Heritage status listing marking it as part of the Great Spa Towns of Europe has been celebrated at an event to mark the inscription.
Cleveland Bridge refurbishment

To keep up-to-date on the refurbishment of Cleveland Bridge you can go to the website.

Work on the £3.8 million project to repair and safeguard the Grade II* listed structure began in May under temporary traffic signals before the bridge was closed to all vehicle traffic on 28 June for 12 weeks. The extent of the works include repairs to the bridge deck and concrete supporting structure, along with repainting of the cast iron arches and parapets and waterproofing to prevent future weather damage. Pedestrians and cyclists still have access across the bridge.

Since the bridge was closed, detailed inspections have been carried out by engineers which have shown the extents of the concrete repairs are worse than previously identified. Every repair has been assessed to decide how the works will be carried out, and we are looking at all options with our contractor to try and avoid keeping the bridge closed for any longer than absolutely necessary.

Background to the project can be found on the website.
Have your say on planning policy consultations

Residents and businesses have until 8 October to give their feedback on proposed changes to the Bath and North East Somerset planning framework, to help address the council's declaration of a Climate Emergency and Ecological Emergency.

Sign up for a one hour lunchtime webinar to find out more about:
Zero Carbon Development and Energy Efficiency – details of proposed changes to policies in the Local Plan Partial Update (LPPU) and the Energy Efficiency, Retrofitting and Sustainable Construction Supplementary Document

Monday 13 September (12-1pm)

The proposed Local Plan Partial Update (LPPU).

Wednesday 15 September (12.30-1pm)
You can register for both events online.https://beta.bathnes.gov.uk/webinars
Latest Government guidance
Future Bright

Future Bright offers free careers coaching, training and support to help residents develop the skills and confidence needed to take the next step, with careers coaches helping you develop a personalised action plan and make it a reality. You can access the service if you are:
aged 18 and over
in paid work (this includes zero hours and self-employed) and are receiving benefits or tax credits
or they are earning less than £9.50 an hour
live in Bath & North East Somerset, South Gloucestershire or Bristol
To find out more and get in touch: www.futurebright.org.uk or call 01225 395555 for a chat with a member of the team.
Live Well B&NES adults

If you need mental health and wellbeing support go to Every Mind Matters and there's also information on these pages:

Bathnes 1BD provides information, activities and support for families and children, including mental health and emotional wellbeing. We also have a similar page for adults needing support or care, on Live Well adults.

You can call:
Avon and Wiltshire Mental Health Partnership Trust 0300 303 1320
Community Wellbeing Hub 0300 247 0050
Bath Mind Breathing Space 01225 983130 breathingspace@bathmind.org.uk
Do you look after someone else?

If you support someone who has a disability, illness, mental health condition, addiction or who needs extra help as they grow older, Bath and North East Somerset Carers' Centre is here for you.

Their friendly team will listen to any concerns you have, offer practical advice and access to free wellbeing activities to ensure you're happy and healthy in your caring role. Contact our freephone support line: 0800 038 8885 or email us. We're available 8:15am-12pm, every weekday.
Support available from the Community Wellbeing Hub

Anybody who is a resident of Bath and North East Somerset can benefit from support from the Community Wellbeing Hub, including those people who are isolating due to testing positive for Covid-19 or being in contact with someone who has Covid-19.

Originally a collaboration between Bath & North East Somerset Council; Virgin Care; the 3SG; Bath and North East Somerset, Swindon and Wiltshire Clinical Commissioning Group; and other third sector organisation representatives, the team can offer a range of support services such as mental health, returning home from hospital, income, housing and benefits advice, emergency food, as well as lifestyle services for help with stopping smoking, getting active or losing weight.

Residents who want to get back to work or change career can now get tailored advice on training and upskilling from a new Employment and Skills Pod. The Pod has been set up by the council and its partners to help people identify the type of job they could do, refer them to training opportunities and gain work experience.

To contact the Hub:
Phone: 0300 247 0050.
Email: CWHBanes@virgincare.co.uk
Website: http://communitywellbeinghub.co.uk
Text: 07870 868368
Opening hours: Monday–Friday, 9am until 5pm

If you need to contact the council about its services please ring Council Connect on 01225 394041 or email Council_connect@bathnes.gov.uk
Domestic abuse

Southside provides help to people who live in Bath & North East Somerset who are at risk of domestic violence and abuse. The working hours are 9am-5pm Monday-Thursday, and 9am-4pm Fridays. Local support services can be found here.
Sight loss support

Sight Support West of England provides emotional and practical support to help people adjust to living with sight loss. Since lockdown this has been either online or over the phone. Now following careful planning, some Covid-secure face-to-face support sessions are resuming on an appointment only basis.

Your Community Sight Loss Adviser will be available at Manvers Street Baptist Church, Bath on the first Wednesday each month and at Midsomer Norton Town Hall on the 4th Thursday each month.

To find out more, or make an appointment please call 0117 3224885 or email For more information on the full range of services visit www.sightsupportwest.org.uk

For more useful information visit the RNIB website: www.rnib.org.uk/
Tune in

Local radio is a great way of keeping up to date with essential information, if you don't already you should tune into BBC Radio Bristol, BBC Radio Somerset or BBC Radio Wiltshire.
Somer Valley FM covers Midsomer Norton, Radstock, Westfield and surrounding villages including Farrington, Paulton, Peasedown, Coleford and Stratton.

Broadcast online and on 97.5fm you can contact at studio@somervalleyfm.co.uk or call 01761 411 755
Bath Radio is a community radio station which has been operating as a hospital radio station for the past 50 years. It now broadcasts to the wider Bath community. Listen online.
Radio Bath provides local news and information, promotes the city and supports its businesses, charities and community organisations.
Keynsham's KTCRfm 105.8FM is now broadcasting 24/7.

KTCRfm covers Keynsham, Saltford, Hanham, Bitton, Warmley, Clutton, Timsbury, the Chew Valley and as far south as Temple Cloud. East to the eastern edge of Bath. North across South Gloucestershire to the M4 corridor and west into many parts of Bristol.
BA1 Radio have been established for a year in Bath and operate from a studio in Southside Youth Hub, broadcasting twelve hours of shows every weekday, focusing on Bath and the local community, including hourly news reports.
website: www.BA1Radio.org
call: 01225 941 080